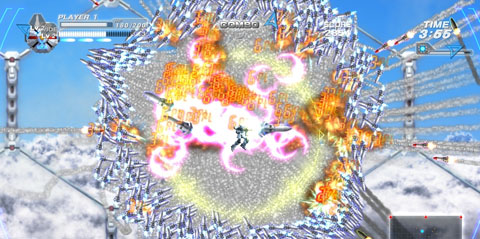 IGN posted some impressions of a pre-alpha version of Bangai-O HD: Missile Fury, coming to Xbox Live Arcade. It sounds like the new game stays true to the formula used by Bangai-O on the Dreamcast and Bangai-O Spirits on the Nintendo DS, and notably includes a level editor like Spirits did, which will allow users to send their creations to their online friends, although without the DS version's really cool/really finicky Sound Loud feature.
The new game returns to the Dreamcast version's control setup, with one stick being used to move your mecha and the other controlling the direction of your shots, which likely means a return to a completely manic pace, as opposed to Spirits' methodically and strategically manic pace. It's a setup that should likely be familiar with the rebirth of arena shooters after the popularity enjoyed by Geometry Wars on the XBLA, and thus hopefully can attract a larger audience than the cult classic originals.
The original Bangai-O managed to incorporate a number of important and intrinsically mecha elements into its gameplay, such as the Itano Circus of missiles being unloaded and the use of shots and missile fratricide to carve out areas of relative safety. The control of the titular robot Bangai-O itself also had a certain amount of heft and weight to it when you weren't actively dashing, and its ability to shoot more missiles the more imminent danger the Bangai-O was in was a decidedly Super Robot mechanic. The more intense the danger, the hotter Bangai-O's spirit burns! If you're curious about the series, then make sure to check out our feature on the games.
The current price point seems to be 800 Xbox Points, which likely averages out to be less than 1 Point per missile onscreen at once.