As we await the upcoming Western release of Gundam Versus on September 29 on top of unreleased units such as Pale Rider and Gundam Guison Rebake, Phantom Gundam has been announced as a future DLC unit from Gundam Ace magazine. This will be the first time it makes a video game appearance.
The Phantom Gundam comes from the manga Crossbone Gundam Ghost, a sequel to the Crossbone Gundam: Steel Seven manga and set around the events of the V Gundam anime near the Jupiter Sphere. The Phantom Gundam is a prototype unit from the Jupiter Foundation using Minovsky Drive technology stolen from the SNRI, the institute that created the F91 and F97 Crossbone series Gundams. Essentially, the Phantom Gundam can generate wings of light similar to the V2 Gundam, but due to imperfect reverse engineering, it cannot match it performance wise. With similar cooling tech used in the F91 to prevent overheating, the Phantom's emissions create a ghost like effect, thus the name.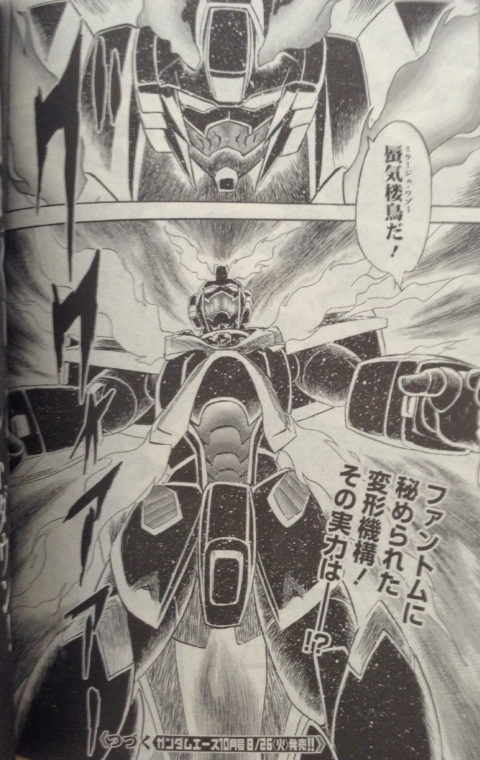 In terms of arsenal, it uses Butterfly Busters which double as a beam handgun and short range beam knife and a Phantom Light beam sword. Expect a lot of I-Field shenanigans as well, as the Phantom's combination of Minovsky Drive and I-Field generators allows it to supercharge a lot of its beam arsenal and defensive capabilities. Expect to see the Muramasa blaster in some form or fashion as well either as a melee attack or as part of a Striker Assist with the Crossbone X-0. It also has a mobile armor mode called Mirage Oiseau, that will no doubt provide more mobility and attack options for the unit.
There isn't much more information about the unit in terms of cost as well, but I'm guessing it will be a 400 cost as there is a more powerful version of the Phantom in the manga, the Ghost Gundam. Hopefully we'll see some enemy Crossbone units as well. Until then, we'll keep you updated as more info hits!