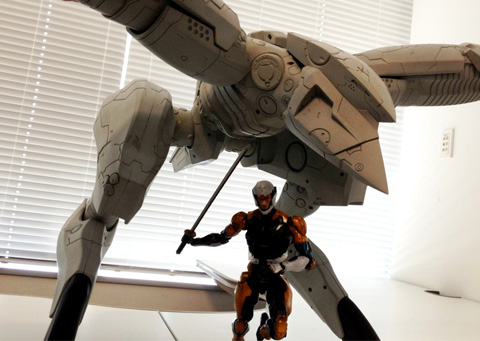 Hot on the heels of their massive Metal Gear Rex replica is an equally impressive Metal Gear Ray from the same craftsmen at threeA. It was first publicly unveiled a few weeks back, at a showcase in Hong Kong, alongside upcoming figures for Halo and Portal.
But it was difficult to get a real sense of Ray's size, though the safe bet was that he's just as huge as Rex (if not more so.) So thanks to close up pics, via Kojima's Twitter, we finally have a better idea. Mostly due to Square Enix's Play Arts Kai Gray Fox, which stands close by and offers a true sense of scale. Anyone familiar with that figure knows already how big it is, so seeing it appear relatively diminutive speaks volumes.
Details are scant, other than what the pictures tell us. Like how its mouth can open; it remains to be see if he'll shoot water, which was a primary means of offense in Metal Gear Solid 2. Ray is also without a tail, a key defining trait of the mass production unit. Perhaps one will be included in the final package, which can be applied at will? Like the battle scars that one can apparently adorn Rex, according to previous pictures.
No word yet on availability or price, but it appears to be coming along just swimmingly, and will more than likely have the same $500 or so price tag as its predecessor. Even though Rex is the most popular among Metal Gear diehards, Ray has plenty of fans nonetheless, who would be more than willing to give it a home as well. Provided that they've managed to pay his older brother off at that point. Also, Arsenal Gear next, please.