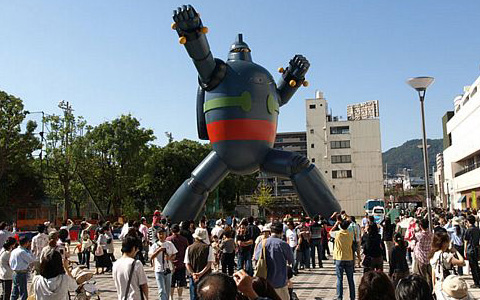 Everyone remembers that larger than large (though not quite full scale) Gundam that was in Tokyo last year, right? Well, even though it hasn't grabbed nowhere near the same amount of attention, the equally as impressive (and 1:1 scaled) Tetsujin 28-go has nonetheless managed to attract a million visitors since it first went up in Kobe. Quite the incredible feat since it's only been up for three months. But most importantly, all those visitors have been a tremendous asset to the city's economy, which has been suffering ever since the Great Hanshin earthquake in '95. One can find positively anything and everything related to the big blue robot: shirts, vending machines, street lamps, curry dishes, even local taxi cabs (which are filled with plenty of Tetsujin 28 manga to enjoy during a ride)!
Spoiler
Be sure to check out this local new story that spells it out all, but with audio and video…
[flash http://www.youtube.com/watch?v=3D3DgyU5xCU]
Via Dark Diamond.
[collapse]