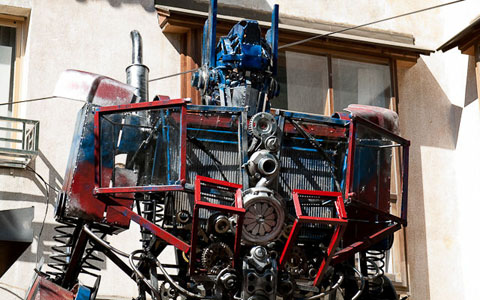 A landscape gardener in Taiwan has built a large statue of Optimus Prime in his backyard. Apart from holding up the washing, the design used is the one from the recent Michael Bay films. Now this version of Optimus does make our eyes bleed but the statue has been somewhat restrained in its use of scrap metal. It's not the horrifically busy nonsense you see in the films but actually something decently mechanical.
There are games for these films obviously but you'd best stay clear really, as none of them are very good (though oddly for entirely different reasons). We're still holding out for the High Moon developed War for Cybertron to be at least moderately decent, but the Transformers franchise generally has a pretty bad track record when it comes to games.
Our personal favourite home built mecha is still this rendition of Kazumi Fujita's Hyper Zeta Gundam though, mostly because it has an actual cockpit and can walk.