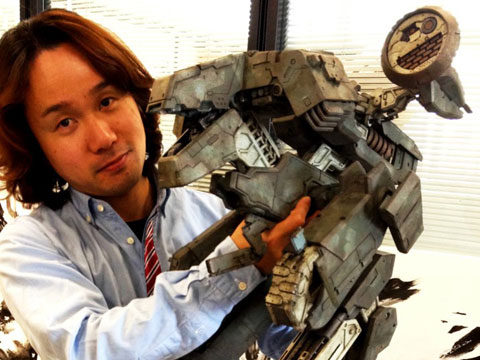 Those who follows the creator of Metal Gear's Twitter feed (his main Japanese one, not the English language version) is well aware of his affinity for taking and sharing iPhone pics. And earlier morning, instead of his latest meal like usual, Hideo Kojima chose to highlight what appears to be a completed (or nearly so) version of threeA's mammoth rendition of Rex.
In addition to being able to admire the product's finish, one can fully comprehend its ginormous size, mostly via the pictures featuring Yoji Shinkawa, like a proud father holding up his newborn child. But the most noteworthy image is the close up of its left leg.
As Kojima notes in the accompanying tweet, it (along with the detachable rail gun) is designed to give Rex the same beat-up appearance he sports in Metal Gear Solid 4. I almost fainted when I saw the image, no joke. As for when it'll be available, later this month is apparently the answer. But no word yet on the final price.