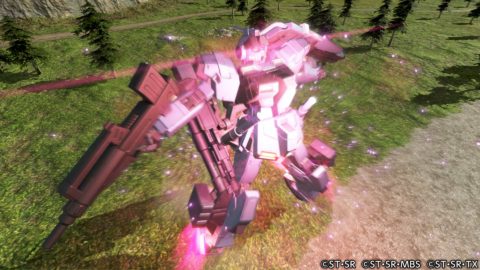 Hot on the heels of Update 1.03 launching later this week, Bandai Namco have recently provided the latest set of playable Gundam Versus DLC units that will arrive in August. We'll see the following five units enter the fray: Pale Rider, Gundam Guison Rebake, G-Self Perfect Pack, Bound Doc, and Perfect Strike Gundam. The first two units are currently Gundam Versus exclusive, whereas the last three are currently available in the arcade-only Gundam EXVS Maxi Boost ON.
This week will also mark the start of available paid DLC on the JP PSN store and will see the following release date for the units at 602 yen + tax:
July 28 – Gundam Virtue, Gundam Barbatos Lupus
August 10 – G-Self Perfect Pack
August 24 – Pale Rider, Bound Doc
August 31 – Perfect Strike Gundam, Gundam Guison Rebake
While we don't have direct footage of the units in Gundam Versus yet, check out what the G-Self Perfect Pack and Bound Doc are like in their Maxi Boost ON reveal trailers below!
Watch Video
https://www.youtube.com/watch?v=lc1A0VDHRWs
[collapse]