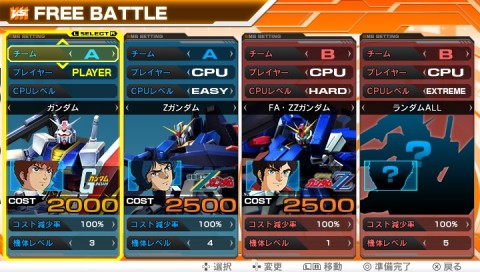 The thirst for Free Battle is real as Bandai Namco have announced its addition in an upcoming patch to Gundam Extreme VS Force! Patch 1.02 released today includes the much wanted game mode that has been a staple of Gundam VS series. This will allow the usual 2v2 option of playing against the CPU, but of course players can adjust it to be 2v1, 1v2, or even just 1v1 to train with movesets. Free Battle mode can be accessed in the newly added VS Extend menu option. The addition of this mode has already been so well received that prices of the game have increased in Japan!
Other additions to patch 1.02 include an extremely hard mission centered around Gundam Barbatos. In Patch 1.03, there are even more additions across the board. Added playable mobile suits includes the Mack Knife, 00 Gundam, GP02A, Turn X, Master Gundam, and Strike Freedom Gundam. Course Battle (another staple of the VS series) is on its way as well where you battle multiple rounds of CPU mobile suits of varying degrees of difficulty based on the course chosen. Free Battle 1.01 adds the VS screen before the match starts. Other quality of life additions will be implemented to include custom button configurations and the ability to choose your mobile suit after completing a mission that restricted choice.
Hopefully these additions will already be out of the box for the Western audience when it arrives on their shores in the next couple of months. At the very least, these obvious game mode inclusions increases value to the overall product considering its single player focus. It's good to know Bandai Namco have addressed some of the concerns players have had with Force since its release, but hopefully we'll see the addition of online play and even more gameplay improvements in future updates!