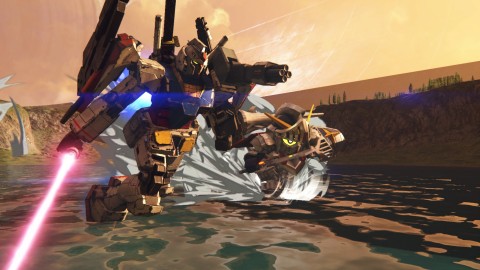 More info has dropped regarding customization and gameplay modes in Gundam Breaker 3, set for release on March 3, 2016. Aside from being able to mash various parts together to build the mobile suit of your choice, there are even more options now with the addition of hard points that allow you add more weapons and armor. You can even go as far as to make your own full armor version of any mobile suit you end up creating. Do you want to add the Turn A Gundam moustache on your RX-78-02? No problem! You can even add weathering and damage properties to your mobile suit to really give your creation a more customized look.
Also new to the mix are the SD Gundams. These units will provide support to your entire squad in various ways. Not much more is known about them, but hopefully you can both control and customize them as well.
There is another new gameplay mode called Bounty Hunter. In this mode, you challenge other players' custom mobile suits and gain rewards and lots of GP.
And last but not least, the 1/144 HG Gundam Barbatos parts will be available immediately in-game as a first edition bonus. While you can eventually get the parts if you play the game normally, this just allows you to unlock them as you start the game. Aside from that, there are several new units to look forward to such as the Full Armor Gundam and Psycho Zaku from Mobile Suit Gundam: Thunderbolt, the G-Self from Reconguista in G, and the Kshatriya and Byarlant Custom from Mobile Suit Gundam UC.