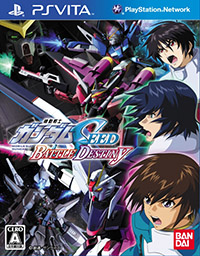 Despite the ongoing and thoroughly erroneous myth that all Gundam games are awful, it's always nice to play a new Gundam Battle game by Artdink. Pretty much every game in the series has given us hours of gaming pleasure (to a greater or lesser extent obviously). So to finally have another Gundam Battle game after Universe announced for the PS Vita, we were more than a little excited. Interestingly though instead of using the Universal Century timeline, the game is solely based around the Cosmic Era from the Gundam SEED saga.
Despite what many think, changing up to develop from PSP to Vita is no mean feat for a developer as small as Artdink. As the handheld is closer to PS3 levels of development, which means exponentially more art resources and greater code risks. Picking SEED was a relatively "safe" choice as after the original Gundam as it's one of the pantheon's most successful entries and if Artdink ballsed it up then the precious UC timeline brand would be untarnished on the new platform. Not to mention that Gundam Assault Survive didn't really help Artdink in securing more UC timeline work.
In any case, we are very happy to report that Artdink didn't balls up this new game at all and in fact it's rather good indeed.