Hot off the presses from the Gundam Games 30th Anniversary stream comes the first gameplay footage from the Gundam Versus alpha test! The game looks functionally like the EXVS series that came before it, but of course new techniques like the Boost Dive stand out. The first match has RX-78-02 and the Gouf versus Exia and newcomer Kyrios, whereas the second match features Full Armor Gundam (Thunderbolt) and Wing Zero TV versus Sinanju and Guncannon.
A new button has been added to activate the new Boost Dive and Striker functions, the SP button. To activate the Boost Dive, simply hit SP + Boost while in the air. To activate you strikers, hit either SP + Shoot for Striker 1 and SP + Melee for Striker 2. Activating your awakenings is still the same from the EXVS series where you hit Shoot + Melee + Boost. To perform your Awakening Technique, have your gear activated and hit the same three buttons again.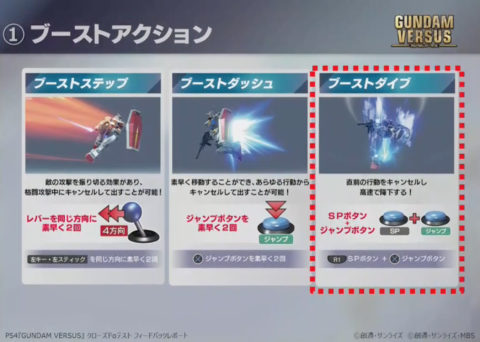 The new Boost Dive technique is similar to the normal Boost Dash in that it allows the cancelling of any move as you dash down towards the floor. But it does have its fair share of caveats. First, Boost Diving consumes a lot more of the boost gauge than boost dashes and step cancels. It also doesn't cut tracking like step cancelling and has a large recovery. Needless to say, it's still a great new mobility option that can definitely help increase your lifespan on the battlefield.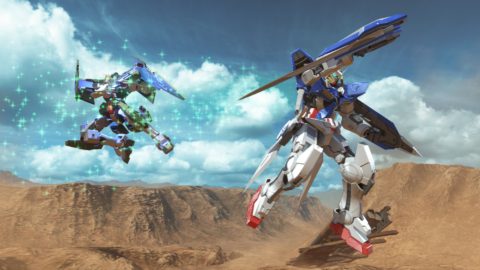 The new Striker system was also in play during the matches. The Striker bar fills automatically once the match starts and will carry over after a death. Once a Striker is called upon, the gauge will deplete and not refill until the Striker has finished their attack. When the bar has refilled, either Striker can be used again. As the Striker gauge only allows for one Striker to be used when full, you cannot use multiple Strikers at the same time. While there were only three to choose from in the alpha test, released screenshots show other Strikers like the Ryusei-Go from Iron Blooded Orphans and Gundam Dynames from 00 Gundam as ones to choose from.
Team costs were also shown during the live stream. While the values have changed, the team gauge mechanic is essentially the same from the previous games. In the second match, you can see Wing Zero get overcosted and come back with significantly lower life as the remaining team cost left did not match its unit cost. There were not 200 cost units in this alpha, but we can only assume this will cost will be relegated to the glorified grunt units like previous VS games.
What we've seen so far from the alpha test gameplay is very promising as it is definitely staying true to the previous incarnations of the VS series. Feel free to check it out in the video below and let us know what you think!
Watch Video
https://www.youtube.com/watch?v=CMd0uuungZI&t=41m37s
[collapse]