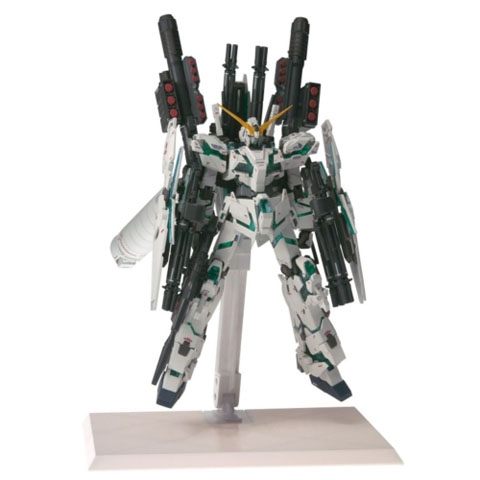 Hot on the heels of the recent 1/100 scale Metal Composite Gundam Unicorn (which we've reviewed), Bandai have announced that they're releasing the Full Armor variant shown at the end of the novels. This new toy will be part of the Gundam Fix Next Generation line (or GFFN for short) and as such be at the smaller scale of 1/144, rather than the Metal Composite's 1/100. There's also no word on whether this toy will complete the transformation between Unicorn and Destroy modes but we're guessing not on account of the smaller scale and lower price point.
To the more eagle eyed of you, the fact that the internal psycho frame is green rather than pink may have raised an eyebrow. This colour shift is to do with events that also occurred in Char's Counterattack, where two psychoframe mobile suits (the Nu Gundam and Sazabi) were in close proximity with one another resulting in a form of Newtype resonance. In the Unicorn novels, this resonance is kicked off when the Banshee enters the fray – which is basically a more powerful clone of the Unicorn.
As for the "full armor" nature of this suit, that is somewhat questionable. As FA mobile suit variants are normally, as the title implies, covered in an extra layer of bespoke armor. Not to mention having custom weapons attached on hardpoints as well. To give a good example of this, take a look at the FA-78-1 and the original RX-78-2 Gundam. You can see, despite the colour changes, that the suit has been pretty heavily re-worked. In the case of the FA Unicorn, well all it's using are standard weapons and parts and just strapping them onto the main body. In any case, this toy will be available in August for 8400 yen and you can practically guarantee that it will make an appearance in the upcoming Gundam Extreme Versus.