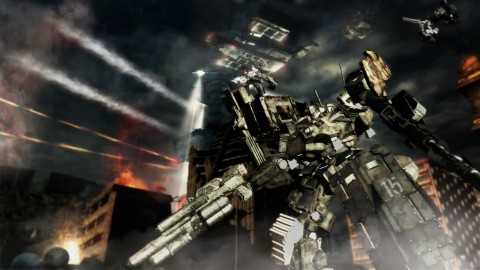 Frustrated with Armored Core V's regional server structure, one person has taken it upon himself to create an open petition to Bandai Namco; to merge the North American, European and Australian servers into one large server. You can find the petition here.
It's no secret that Armored Core has never exactly been big outside of Japan. Sure, we few mecha gaming fans have played and loved them for years but the general population has, for the most part, skimmed over the franchise. So to start off with the player base is small but to then make it smaller yet, by braking the online players up from region to region, is a bit of a kick in the side. They meant well though. They just wanted to decrease server lag for us, which is a nice thought.
If the servers were to merge, we would have a great many more opportunities for territory matches, the online would feel more alive and I think all around more robust (albeit perhaps slightly laggier). While I'm not sure if Bandai Namco will listen to the pleas made by this petition, I do believe that at the very least, Bamco will take notice, and think about what the players want. Besides the petition's stated goal, many people hope that it will bring with it the patches required to bring the game inline with its Japanese counterpart, which would be a very welcome thing indeed.