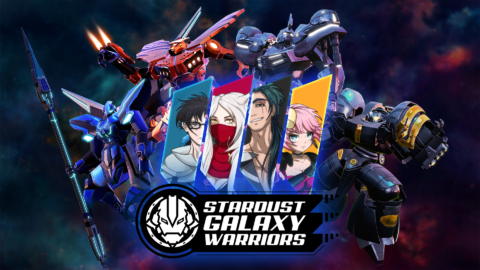 Last November; Indie developer Dreamloop Games released Stardust Galaxy Warriors to Steam, and… well. It seems hardly anyone noticed. Ourselves included.
What is it? It's a casual, mecha themed shmup game featuring local co-op. It's also sporting some great stage visuals, as well as an incredibly fun soundtrack which you can actually listen to here! It's also available for purchase on Steam. You can choose from 4 different mecha, each with their own abilities, as well as selecting your weapon setup before launching. The game also boasts some light RPG elements, as you can choose different upgrades after beating a stage. This game certainly is fun, and if you're the kind of person who likes to customize their experience; you can switch things up in the options. Giving you the options for things like enemy durability, fire rate, and more. The game can change as you want it.
With just 38 reviews on steam right now, this title really didn't receive a lot of attention. Something I don't quite understand. While researching the game in order to write this small article, I've found those who have played it seem to love it. The devs are nothing to turn your nose up at either it seems, as they're quite passionate and really care about providing a quality product. As this Steam review I found highlights. I really look forward to seeing what Dreamloop has in store for the future. You can view the trailer for Stardust Galaxy Warriors below.