The full report on the Gundam Versus Alpha test has finally been published over at 4gamer, giving us a better picture on what to expect from the latest game in the VS series. We initially talked about early impressions in a previous article, so it's nice to see confirmation on how the game will be played. There's definitely an air of familiarity when looking at the main battle screen if you've played previous VS games, but there are some nice quality of life changes already apparent. The HUD does not seem as cluttered as before with team health bar taking up a smaller footprint and partner health being more visible than before (an addition made in Maxi Boost ON). Of course, this doesn't take into account the custom HUDs that can be sometimes pretty garish, but it's nice to see a cleaner approach. Striker units are also added below the boost gauge.
Like the previous EXVS series, the step and boost dash cancels are back. What's new is the inclusion of the Boost Dive mechanic that allows players to immediately drop towards the floor to improve mobility and defensive maneuverability. It still hasn't been mentioned how you activate the Boost Dive, but it does work just like step and boost dashes in terms of canceling moves as well.
The Striker system is new take on the assists seen in previous games as you are allowed two selectable units in the alpha version. Striker units are also classified as either "shooting" or "fighting" as well, so you have an idea of what kind of assist they'll provide. As this is only the alpha version, expect more balancing and possibly even more types like a defensive version.
In terms of Awakening types, the two that could be chosen were the Blaze Gear and Lightning Gear. The Blaze Gear provided a more short term performance increase whereas the Lightning Gear gave a longer lasting buff with an increased lock-on distance. Both types replenished the boost gauge when activated, but the Lightning Gear also recovered ammo as well. Like previous VS games, the type of Gear used will depend on what unit you select. And as always, activating your Gear will give you access to use your super attack, now known as the Awakening Technique.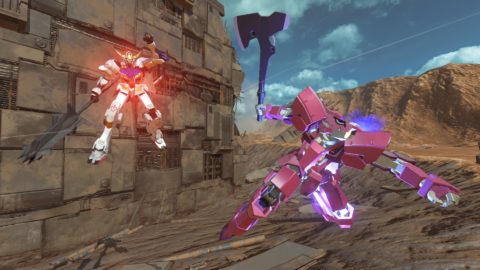 According to the 4gamer report, the new additions have definitely helped deepen the core gameplay versus earlier versions. Even if you weren't able to grasp the new Boost Dive and Striker mechanics yet, the you'd still be able to enjoy it due to the familiarity. They were also impressed with the improved graphics and presentation in its early access form. We're definitely looking forward to hearing how the Gundam Versus team does plan on specializing this particular version for the home market as the alpha test focused primarily on the 2v2 core gameplay the VS series has become well known for.