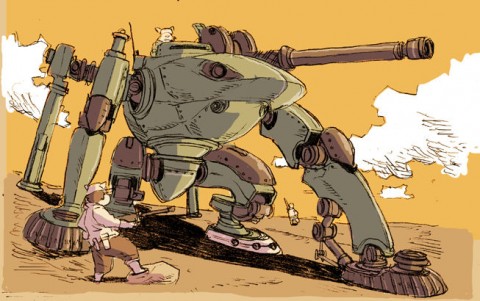 Andriasang put up a gallery of new pictures for the Game Formerly Known as Solarobo, but Now Known as Solatorobo, including a few pieces of absolutely beautiful mechanical art. It has that "alternate history/steampunk" look to it that was very common in anime as I was growing up, but eventually seemed to get replaced with cleaner and more modern designs, and I'm glad to see this sort of imaginative work back.
Game Watch Impress has an article with much of the same screenshots and mechanical works featured, plus a few extra details if you can read Japanese or are willing to wade through a machine translated version of it. Most of the details in the article are about gameplay elements we've seen in action before, but it's good to know that "dog-man in a bird-robot fishing for battleships" is still a planned feature.
Speaking of things we've already seen, the small gameplay videos that were released were edited into a much prettier single movie, complete with gorgeous backgrounds and music. The wide variety of game modes, and the sheer charm of the graphics they've been able to squeeze out of the lowly Nintendo DS, have gradually changed my outlook on this game from being a mere curiosity to being a "must have!" title, simply because there isn't and won't be anything quite like it. The industry as a whole seems afraid to innovate in 3D action games and platformers, preferring to use proven-successful genre formulas or licensed characters to carry these games, but these fellows are doing something amazing with Solatorobo. Here's to hoping that the game does indeed get released outside of Japan.
A preview video has also been released, mostly showing off the game's cast of characters, who are still animal people and not robots like we would prefer:
Spoiler
[flash http://www.youtube.com/watch?v=GFyxuNHW9As]
[collapse]