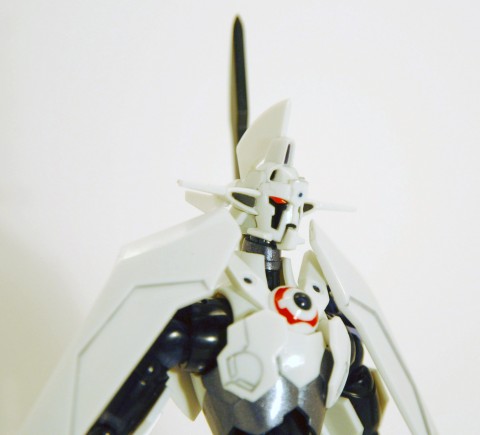 Courtesy of our good friends at HobbyLink Japan, we've been sent a toy from GUNxSWORD to review. Specifically, the Robot Damashii Dann of Thursday. In addition, to give the toy some context, we've also linked some anime and gameplay footage of it in action in Super Robot Wars K at the end of the review.
We probably enjoyed GUNxSWORD more than we should have, despite the voluptuous ladies present the series was an interesting one. Almost as though Trigun had high fived Cowboy Bebop and then had mecha babies. Set on the "Planet of Endless Illusion" our story follows the plight of a chap called Van, who's on a mission to find a man with a claw hand. The same man that murdered his bride to be.
Over the course of the series, the planet is revealed to be actually an ancient prison world that was governed by a set of mecha named the Original Seven. One of these seven is Dann of Thursday, piloted be none other than Van himself. Launched from an orbital satellite, Dann embeds itself in the ground as a giant sword and then transforms into a suitably hard as nails mecha. Curiously, Dann is also filled with special blue G-ER fluid that acts as a form of advanced musculature. Overall, the mecha in this show were pretty interesting.
As for this new figure, this is not the first toy of Dann to grace the shelves. As Max Factory back in 2007 unleashed their own similarly non-transformable figure. Whilst a lot larger than this Robot Damashii offering, the articulation was a bit awkward in places and for the money it criminally lacked any form of diecast.
So when Bandai announced Dann would be part of the Robot Damashii line, we did our happy dance. After thoroughly enjoying its potency in Super Robot Wars K, it's nice to finally have a really nice action figure of the design. So it seems only fitting at this point to say "wake up Dann!".
Toy: Dann of Thursday
Price: 3,230 yen
Size/Weight: 19.5 x 19.5 x 6.0 cm / 190g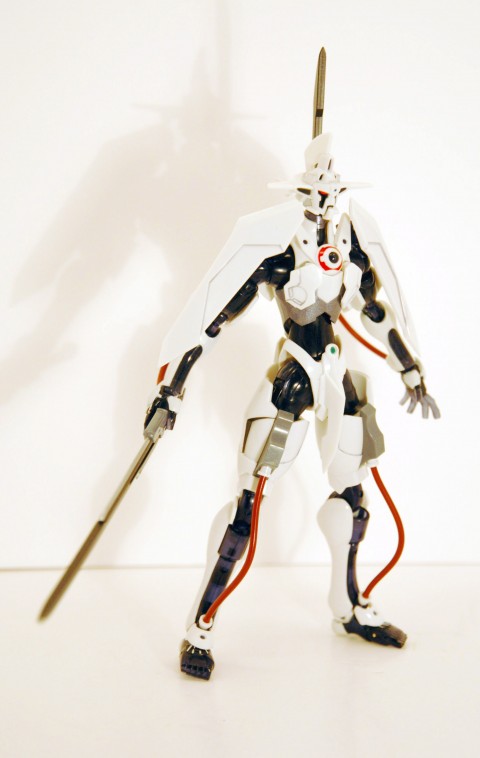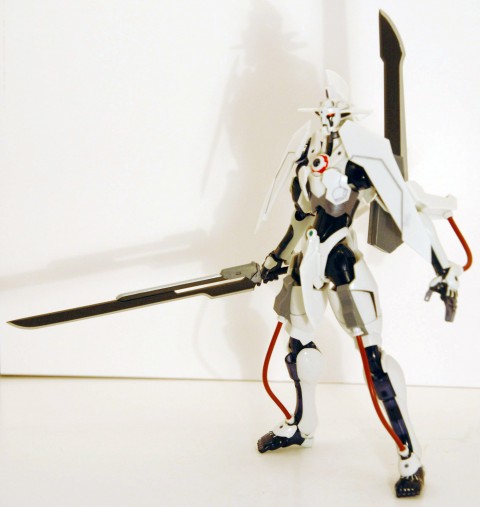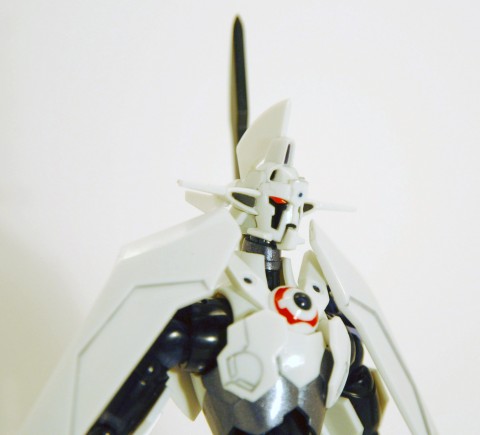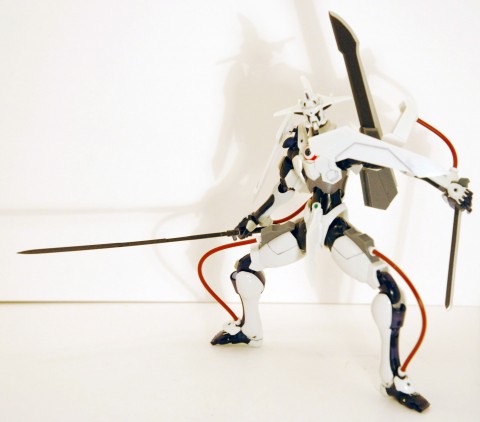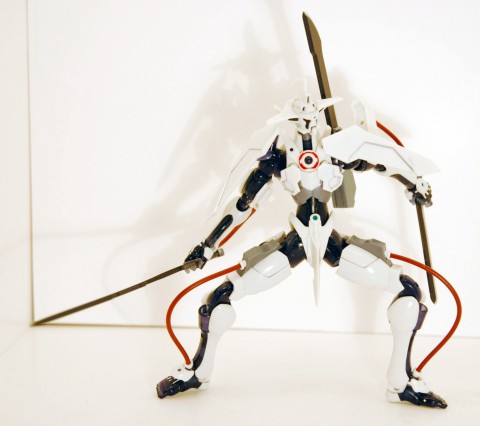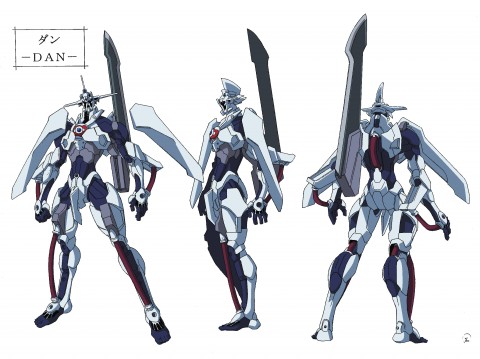 The articulation of the figure is exemplary, almost to the extent that's been overdone. Considering how lithe the design is in the series though, this zeal in regards to articulation makes a lot of sense. Even despite the lack of ratcheted joints, like in a Revoltech, this figure holds poses very well indeed. In addition to the two part sword, the figure comes with multiple hands and different lengths of red piping, the latter is to allow the figure to bend its knees and still have the pipes connected properly.
Due to the nature of the design, the toy itself isn't really gimmick ridden and also lacks the transformation ability seen in the show. That said, this is entirely made up for by an excellent sculpt and good paintwork. Even the G-ER fluid is rendered nicely via see-through blue plastic. Considering the very reasonable price point of this figure, especially when compared to the much pricier Max Factory effort, this comes thoroughly recommended to fans of the show. Like with all Robot Damashii figures this is also a toy that's meant to be played with.
[flash http://www.youtube.com/watch?v=S_nKj0ib2_M]
[flash http://www.youtube.com/watch?v=jE3O8pvkYVs]