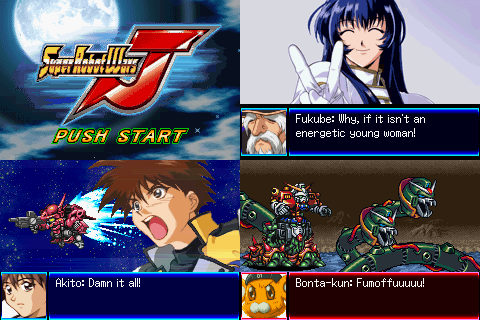 We all know that in a perfect world, Super Robot Wars J would have been officially released in English. Its sweet, sweet combination of no less than 13 different anime series joining together to face evil in a strategy RPG set souls aflame. When it became clear that we did not live in this perfect world, however, and would be denied seeing this game's release, a dedicated team of wizards and mystics set out to right this wrong, using the darkest and most forbidden of arts to scrape away at reality, tunneling into this hypothetical perfect world to extract an English copy of Super Robot Wars J from it.
Luckily, their Great Work is nearly complete, and a cornucopia of mecha tonnage is nearly ready to sortie. What they need for this Miracle is your help–your burning spirit–to pull the Veil of our Universe away for that tiny moment, just long enough to copy data over their 56k modem.
Clap if you believe in mecha fairy dust. Clap if you believe in love. Clap if you believe in never giving up. Clap if you believe in Space Lance.
Super Robot Wars J is coming, but only if we are first found worthy. You have been warned: prepare yourselves.
UPDATE: The translation group have turned back their hoods and have decided to make themselves known: when the translation is allowed out of its cage you may find it here. Keep in mind every minute they spend reading "but when, man, WHEN will it be done?" is one minute less they spend on the game's release, and if possible restrain yourself from melting down their server through furious pressings of the reload button on your browser.