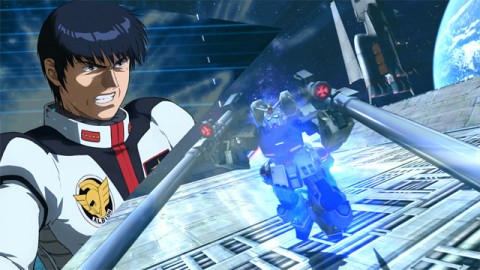 The Gundam Extreme Versus Full Boost website has been updated with a plethora of new mobile suits. Aside from the RX-105 Xi Gundam and the XXXG-00W0 Wing Gundam Zero, whom were previously announced, a total of five new units have been officially added to the foray. They are the YAMS-132 Rozen Zulu from Gundam Unicorn, MBF-P01-Re Astray Gold Frame Amatsu from Gundam Seed Astray, Mashymre Cello's AMX-011S Zaku III Custom from Gundam ZZ, GN-007 Arios Gundam from Gundam 00 and the GP-03 Gundam Dendrobium (pictured above) from 0083 Stardust Memory, which was last  playable in Gundam VS Gundam Next Plus.
This coincides with the recent Full Boost mobile site leak, where even more new mobile suits are shown, including some previously mentioned. Those units are the following: XM-X3 Crossbone Gundam X-3, ZGMF-X88S Gaia Gundam, G-Armor, AMX-109 Corin Nander's Kapool, AGX-04 Gerbera Tetra, RGM-79FC Striker Custom, and Gundam AGE-1. While not visible, the MSA-0011 S Gundam also appears to be in as well as text mentions the ALICE system that resides in the S Gundam that was featured in Gundam Sentinel.
There's also a little surprise for Gundam Extreme Versus players out there on the PS3. "The Best" re-release will be accompanied by new DLC units on December 13th. The two units are the Xi Gundam and GP-03 Gundam Dendrobium and they will go for 500 yen each. There is also a special six pack DLC for 2,000 yen that includes the previous 6 DLC units. Hopefully Namco Bandai will continue to fill in the long void between now and the probable console release of Full Boost with more unit DLC for console players. As a huge Gundam Extreme Versus player myself, I am definitely looking forward to jumping online with these two new mobile suits.
Check the video below to see the new PS3 additions in action. If you look closely, the footage for Xi Gundam is the same as the recent Full Boost character reveal as well.