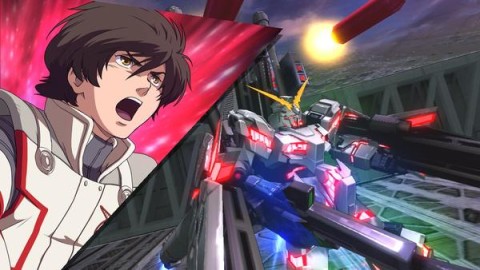 There's some good news on May 28th for those who are stuck waiting for Maxi Boost to get a console release. Bandai Namco has released information about the upcoming 1.08 patch to Gundam Extreme Versus Full Boost for the PS3 that has some very interesting and well needed additions. First of all, four units from Maxi Boost are ready to join the Full Boost roster. Full Armor Unicorn Gundam, Avalanche Exia, Char's Zaku II, and Gundam Sandrock Kai will be available as DLC units for 476 yen plus tax.
Second, you will be able to purchase HUDs, pilot costumes, and navis permanently with a new GP points system. You earn GP points from a daily login bonus, by winning matches in the online Arcade Mode, Player Match, and Ranked Match, and playing these game modes at least once per day. Aside from using GP points to permanently purchase the items mentioned before, you can also use the points to trial DLC units that haven't been purchased with real money. Once you use your GP to start your trial, you will be able to use the unit in any mode until you either lose, finish the game mode you are currently in, or get disconnected from the servers. To use the unit again, you must use more GP or purchase it properly.
Other additions to the game include a new camera to replay mode, have up to 6 units in your favorites list, view individual unit win rates and usage much easier, remove win rates from lobbies, convert your endurance conversation messages, more Full Boost missions, and balance updates that nerf both Banshee Norn and ReGZ. Also, it looks like there's more DLC in the near future as Perfect Gundam has appeared next to Char's Zaku II in several released screenshots of the unit select menu. Hopefully we'll get an update soon on upcoming DLC units on top of some info on a home release for Maxi Boost.