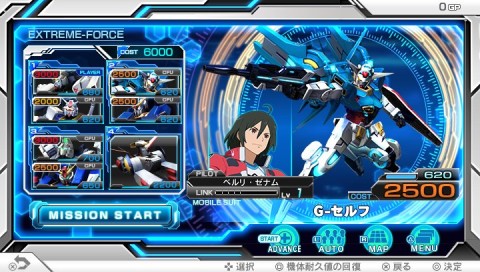 Bandai Namco have finally announced Gundam Extreme Versus Force will be released on December 23rd. This only applies to the Japanese version for now, as nothing has been announced for English localized version. On top of the release date, more information regarding gameplay modes was announced as well. Aside from the usual 2 vs 2 mode that is available via ad-hoc mode called Force Battle, the meat of this new game will center around the single player mode called "Extreme Force." In this mode, you lead a squadron of units that can be collected from the missions you experience, with your hero mobile suit as the lead. Similar to other Extreme Versus games, your team also is built around the cost system. The stronger the unit, the higher the cost. You can also strategically control your units via the "Force Command" to either engage, withdraw, gather, or disperse depending on the situation.
New units to the series that are currently exclusive to Extreme Versus Force include the G-Self from Reconguista in G and the Gundam Barbatos 4th Form from Iron-Blooded Orphans. The latter is a first print exclusive DLC, so be sure to grab yourself an early copy! We will update you as more information regarding the gameplay mechanics around the Force System is released. Until then, check out the latest promo released for the game below.
You can also pre-order the English version of the game here.
Spoiler
[flash https://www.youtube.com/watch?v=2I1jydeUpug]
[collapse]