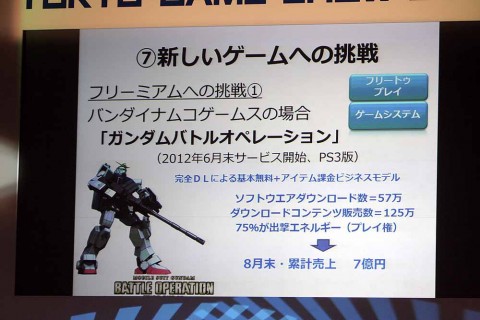 Whilst the the title of this post may sound a little dull, this is actually quite interesting in a broader sense. In short Gundam Battle Operation has been downloaded lots with a 75% attachment rate in terms of purchases and made around 700 million yen (roughly 9 million US Dollars) since release. This is good right?
Well, no. Not really. To put it into perspective in terms of sales, an average PSP game can make more than double than this. The really scary insight though was that the money made has more than enough paid for the game's development. This is a PS3 game we're talking about here and one that was developed for a few years. Basically, Japanese developers get paid like utter shit in order for this to make a profit.
The other slightly bizarre thing we found out was that Masahiko Tokushima, of former Team White Dingo fame, was and is somehow involved with Battle Operation (apparently as a "director"). We're not sure how much he had to do with the game's development but he may have been rolled out purely to appease the fanbase (as his name alone garners a lot of respect when it comes to Gundam games in Japan). After the dissolution of Team White Dingo a few years back, he may have been relegated to a more managerial role at BEC so that may help to explain his presence.