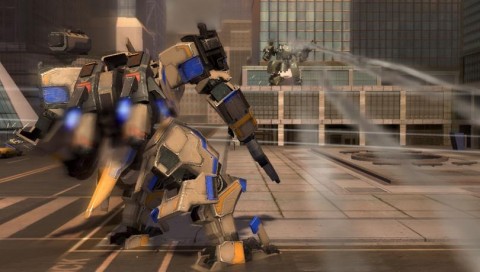 SiliconEra has an interview with Shinji Hashimoto, producer of Front Mission Evolved, teasing some sort of cross-promotion with Hideo Kojima and his PlayStation Portable game Metal Gear Solid: Peace Walker.
This cross-promotion seems to be in addition to an already announced cross-promotion between the two games, where items unlocked in Peace Walker will be available in Front Mission Evolved, and/or vice versa. Considering the very different nature of the two games' mecha, I'm wondering how this will actually work; if it's robot-to-robot part swapping it could look awkward, albeit possibly interesting. The mecha in Peace Walker are heavy tank-like walkers and reworked versions of Metal Gear Solid 3's Shagohod, while Front Mission Evolved's mecha conform more to the Real Robot standard of quick-moving humanoid weapons, equipped with thrusters and ground rollers.
I wouldn't mind the big secret being a face-off against the venerable Metal Gear REX from the original Metal Gear Solid. I've been waiting years to go mano-a-mano (well, mecha-to-mecha) against that monster without support from an insane cyborg ninja. Getting help from an insane cyborg ninja always felt like cheating.