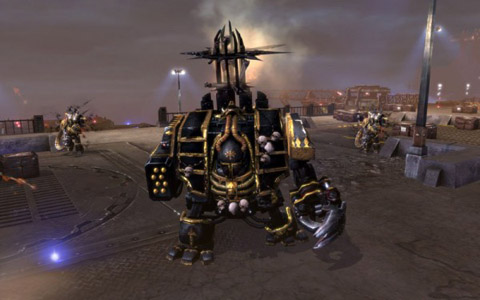 An expansion for the RTS/RPG hybrid game Dawn of War II, titled Chaos Rising, has been announced. The official site, with a few more pretty pictures and such, can be found here.
What we know so far seems to imply the single player campaign is again Space Marine centered, so those hoping for a Dark Crusade style campaign, where every race was playable in single player, might again be out of luck. The only new faction announced (so far) has been Chaos, and I'm sure I'm not the only mecha fan who had their hopes on a Tau or Necron appearance, or at least a playable Ork campaign.
Still, it looks like Relic Entertainment might finally start answering some questions about the Blood Ravens' hidden origins and the consequences of the events in the first Dawn of War. The last Dawn of War I expansion, Soulstorm, had a total of nine playable factions, so it's somewhat understandable that they've been short on narrative time, but after five installments I feel we're due some background characterization on everyone's favourite generic Space Marines.