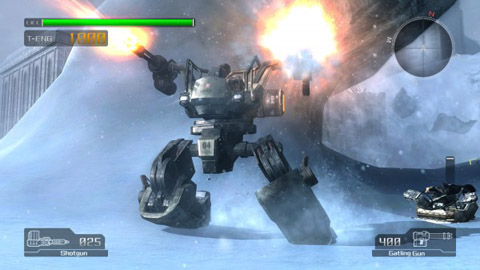 The recent post about the Lost Planet 2 Vital Suit kits reminded me of this tidbit. Early last September, Capcom released the Capcom Platinum Hits pack. For $40, you get Dead Rising, Devil May Cry 4, and the first Lost Planet. Those who held off on purchasing the original Lost Planet because of the two expansion packs (like myself) will also be happy to know that the Lost Planet here is the Extreme Condition: Colonies Edition, so you'll be getting the ultimate version basically.
The Vital Suits, the mecha in the game, handle like the cumbersome workhouses they are; partly out of a bit of reality and mostly for balance reasons (making it so that being on-foot in battle isn't wholly hopeless). Some of the game's learning curve is also about working out how to make the most of your mecha's limited abilities, so don't expect the graceful swans of, say, Armored Core For Answer.
Platinum releases on the Xbox 360 usually go for $30, so three for $40 is pretty much the deal of deals.