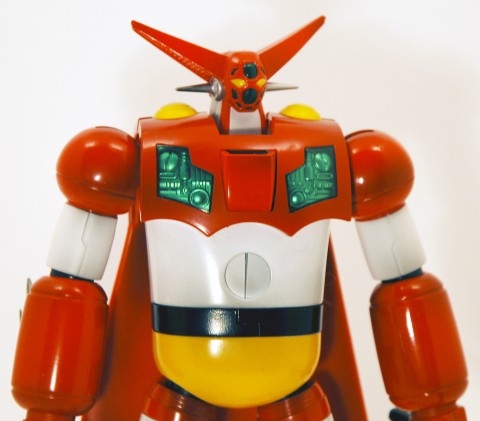 Courtesy of our good friends at HobbyLink Japan, we've been sent a toy from Change!! Shin Getter Robo to review. Specifically, the Getter Robo 1 with Full Mantle that's on sale. In addition, to give the toy some context, we've also linked some anime and gameplay footage of it in action in Super Robot Wars Z 2 at the end of the review.
The original Getter Robo anime was a groundbreaking series, as it introduced the concept of combining various vehicles into making a robot. With three forms, Getter Robo was subsequently piloted by three suitably hot blooded pilots. Each mode specialised in a certain area; Getter Robo 3 was a ground pounding "tank", Getter Robo 2 was a highly agile unit that liked to drill enemies in the face and Getter Robo 1 basically violated everything it came into contact with.
Piloting each mode fell to one of the three pilots; Musashi Tomoe for Getter 3, Hayato Jin for Getter 2 and Ryoma Nagare for Getter 1. Unlike other super robots of that era, piloting a Getter machine was a physically and mentally traumatic experience. It pushed the pilots to the limit of what they could handle and then pushed them further still. It was a curious setup really, as ultimately the mecha the heroes piloted could harm them as much as their enemies could if not handled properly.
The continuity of Getter Robo after the first series is a long, winding and complex one. With the anime and manga taking different paths. This is no more apparent than with the 1998 OVA, Change!! Shin Getter Robo. Whilst technically a follow on to an audio drama that was never animated, there are elements that were present from the prior Getter Robo Go as well as aspects that had also been utilised in Super Robot Wars, notably that of the titular Shin Getter Robo itself.
The OVA is an interesting though thorny subject for some fans, whilst on the one hand it's very nicely animated and with a nice amount of brofisting it also plays merry havoc with what many thought the original series was about. It was also darker, much much darker than the first show. With the likes of Ryoma becoming almost psychotic but somehow reigning himself in when the task at hand required it. So to have this new and embittered Ryoma pilot the then retro Getter Robo, it understandably was rather cool.
Like with other Aoshima toys, this is almost entirely made of diecast and has a great sculpt that's both retro but also updated as per the OVA. Considering that this is basically the same design as the original Getter Robo 1, it's basically meant to be a nice retro figure.
Toy: Getter Robo 1 with Full Mantle
Price: 3,200 yen
Size/Weight: 37.8 x 25.7 x 11.0 cm / 980g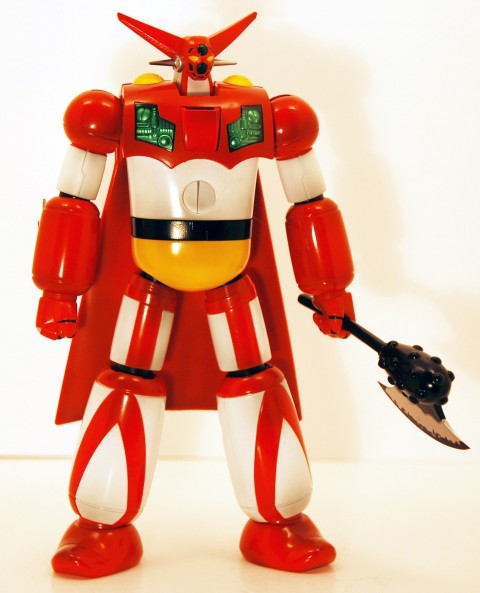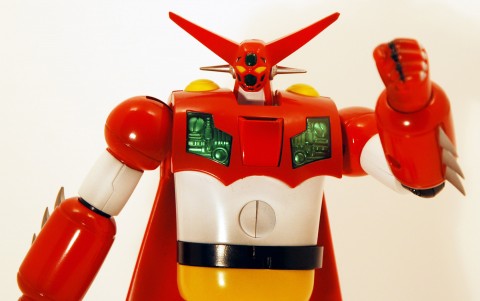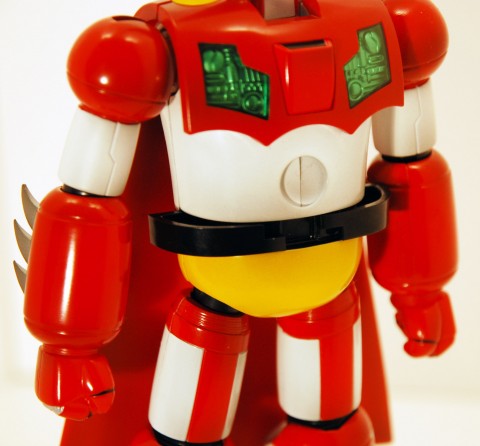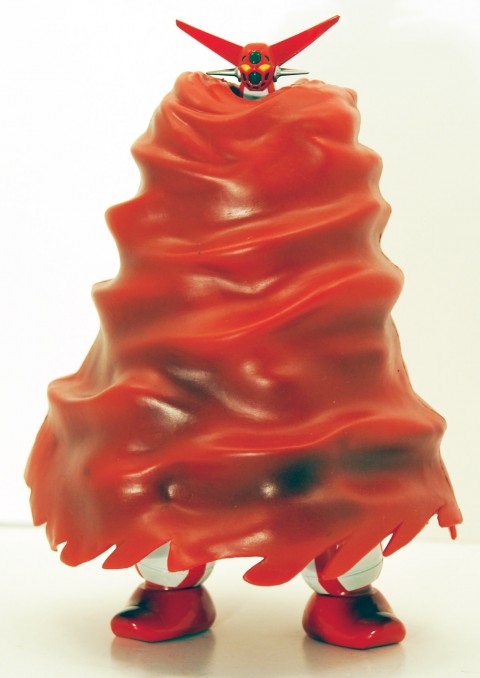 The scult and paint job are pretty much perfect, with the clear panels on the chest showing its innards being an especially nice touch. As I said above, almost the entire toy is made of diecast so it feels very beefy. The articulation is also surprisingly good too, with the legs having ratcheted knee joints and the elbows sliding out to allow the toy to bend its arms (but allowing it to look more accurate to the anime once they're retracted). It also has lots of extra parts and gimmicks, from the cockpit hatch to the Getter Beam switch tucked behind the mantle. You even get a disembodied head of a Getter Dragon that can be attached to one of the hands in rather gruesome fashion. The real party piece is obviously the "full mantle" part, also seen in Super Robot Wars Z 2, which has to have the toy's arms removed before it can attached.
The only real downside to this toy is the fact that, from behind, it's covered in screw holes. It's not overly surprising considering the amount of diecast involved but Aoshima could have easily covered them up (like Bandai do). However, we also have the Bandai Soul of Chogokin toy also from the OVA and this looks and feels a lot cooler somehow.
Overall then, it's a excellent toy that looks and feels like it's meant to be played with. It looks great too, even with the screw holes at the rear, and the full mantle looks awesome too. Considering that this is now going for a seriously cut down price you'd be crazy not to pick it up, especially as it's not only a rendition of the classic Getter Robo 1 design but also the fact it's properly old school with the amount of diecast used. As such, it comes thoroughly recommended.
[flash http://www.youtube.com/watch?v=Nhjds5BtY68]
[flash http://www.youtube.com/watch?v=LyBfoCtsXYk]
[flash http://www.youtube.com/watch?v=G_nZXy7uzIo]
[flash http://www.youtube.com/watch?v=O6N5NV6n0yU]
[flash http://www.youtube.com/watch?v=z_3g8qYX2SM]
[flash http://www.youtube.com/watch?v=erc_qlppQaA]
[flash http://www.youtube.com/watch?v=aEI7bzEgsVk]