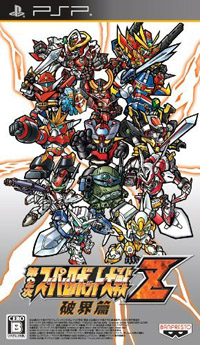 Back in 1991 a small and fairly unassuming GameBoy game inadvertently started a franchise of games that have now reached their 20th Anniversary. It pitted all manner of super and real robots in a turn based strategy framework, allowing super robots with suitably preposterous abilities to high five with more rational mecha. This functional disparity is one of the many aspects that has made Super Robot Wars such a loved and cherished gaming heirloom over the years.
Cue the initial sequel to 2008's Super Robot Wars Z, featuring pristine animation and above all insanely powerful super robots from Gurren Lagann to Final Dancouga all of which fist bumping the grittiest of all the real robots; the sturdy little Scopedog. On fan service alone, Z2 technically goes up to eleven but what's more impressive is how the game has been functionally distilled into a fiendishly compelling strategy game.
We loved the first Z, from the beautiful animations to the formation twist to the strategy. Z2 eschews some of that complexity to return the series to more of its portable gaming roots. In short, squads of mecha that are normally associated with the console iterations have been dropped. Instead Z2 opts for a single unit approach. In addition, units with multiple pilots have been simplified down into a main pilot and multiple sub pilots. Pilot upgrades are still present, from basic ability improvements to purchasable skills though. Mecha are also similarly upgradeable and can be equipped with bonus parts to aid them in combat. All of this is pretty standard SRW fare and for long term players of the games, then none of this should surprise you.
What is surprising though is that despite its almost standardised simplicity, the game itself is remarkably compelling. Animations aside, though I assure you we will get to these later, the game as a pure unbridled turn based strategy title is nigh-on perfect. Doubly so as bouts of gameplay can be handled on the move, regardless of mission length, due to the quick save feature that's been a staple of the games for a good while now. Compared to the somewhat lacklustre DS outings, Z2 is really very addictive.
Managing your team of disparate mecha and their even more varied pilots is a refreshingly cerebral affair. Especially as much of the strategical nuance encourages the player to understand the history and context these individual units have come from. It's one of the few series of games where knowing the various host works pays dividends in how you handle their usage in a mission.
What's also very special about Z2, probably even more so than the original Z, is how the animations have been handled. Despite re-using a good number of units from the first game, the vast majority of the animations and sprite work are all new. This is especially noticeable with units like the Nu Gundam, where almost every aspect of the sprite and its animation have been totally re-tooled. Though the really amazing aspect about all the game's animations are just how dynamic they are to the point the make the original Z feel almost static. It also goes without saying that the detailing and just simple image quality far exceeds that of the first Z, to the point that this is by far and away one of the prettiest SRW's we've ever seen.
There's also an inordinate amount of love poured into this game, with each of the series handled with an almost craftsmanship zeal. The sheer amount of reverence in some places is almost palpable, with the Chirico Cuvie and his variety of Scopedogs being notable. Even the glorious introduction of Final Dancouga, almost two thirds of the way through the game, is brilliant. Harking back to the series that partially birthed it and the delayed introduction of the titular Dancouga itself. Naturally, upon our acquisition of said unit we subsequently maxed out all its attributes in one go. Something that felt unnervingly satisfying.
Clocking in at around 50 missions, with multiple internal branches, it's not as long winded as the original Z but for a PSP game it feels about right. Missions are on the whole very well balanced with no real difficulty spikes to report. Considering that another Z2 will be following this one, as they cunningly only took many of the new series featured halfway through their story arc, means that yet another thoroughly excellent SRW can be expected. In the meantime, Z2 is probably one of the finest SRW games we've played in a long time and any self respecting gamer should pick it up forthwith.
Tamashii: 9/10