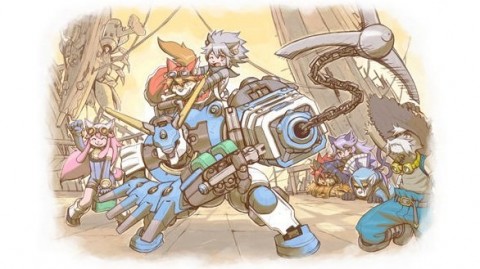 It seems mecha games have gotten one last hurrah out of the Nintendo DS with the release of the eagerly anticipated action RPG Solatorobo. No word yet on whether the game will get a Western localization, but since we've seen Solatorobo in French there is certainly reason to be cautiously optimistic.
It's interesting to note that for what is likely considered to be a longshot in the games industry these days–Solatorobo not being a direct sequel to a well-known property nor being a cash-in on another successful game's genre–Solatorobo had quite an advertising campaign associated with it, with no less than one hundred commercials being played on a single TV station, all within eight hours. That's one hundred different commercials, mind you.
If you're as incredulous as I was, you can check the official website and watch all 100. They spend a large portion of that airtime fleshing out the game's world, talking about the kinds of foods that dog and cat people eat and the kinds of shoes they wear, in case you ever had questions about dog and cat people living in Victorian-era floating islands but were always too afraid to ask. It's a rare glimpse into a fully realized world, rather than the usual slapping together of standardized video game and anime tropes, and it's amazing (and perhaps slightly frightening) how much work CyberConnect2 put into making the world of Solatorobo feel alive. I find myself wishing that developers of "open world" style games put that much thought into their releases.
If you, for some reason, still prefer your trailers to focus on the actual game, you can see a quite nice one here.