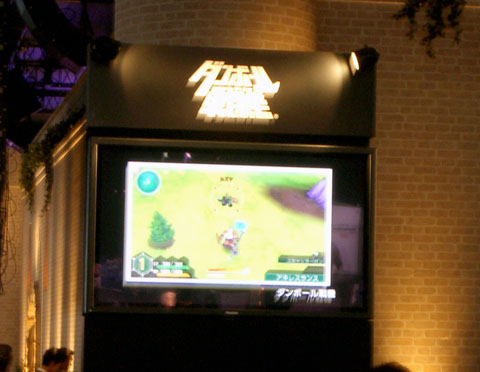 Again, apologies for the somewhat blurry photo but the game in the picture is Level 5's new PSP game Danball Senki. In many ways it's a spiritual successor to Custom Robo Battle Revolution on the GC, as Danball Senki has an RPG type hub with a simple mecha action game core. Unlike Custom Robo though, Level 5 clearly have oodles of money as the game has pretty amazing production standards (even the anime cut-ins are very nicely done). The game will also be kicking off an anime, manga and even a model kit line, so Level 5 have clearly invested a lot in this one. The impressions are after the jump.
The first part of the demo showed a long cutscene of a female scientist running down the corridors of an evil laboratory clutching a case. Lo and behold this case contains a new remote controlled robot called an LBX (Little Battler Experience). Jumping forward a bit you end up in your average plamodel shop with friendly and suitably funky staff chatting with enthusiastic kids. Cue said kids to have a robot toy ruckus.
This is where the action game kicks in and unlike Custom Robo, Danball Senki opts for a more fixed camera viewpoint to the mecha you're controlling. This makes it feel similar in functional tone to Capcom's Gundam Versus games amongst other things and it does work very well. What's also interesting prior to the battling itself is that the robots can be customised in a cutesy way not to dissimilar to the old Armored Core games, this obviously ties into the whole hobby-esque focus the narrative has with the protagonists.
From the animated promo displayed at the show (and linked above), it seems that the kids at some point "upgrade" to full blown mecha pilots and it will be interesting to see how the game handles this – as it wasn't present at the show unfortunately.
The visual style is very polished and quite cute, but thankfully not sickeningly so. A bit like Pokemon meets Giant Robo or the recent reboot of Tetsujin 28-go. There's a definite retro vibe about the whole style and premise but with it being Level 5 it has been executed pretty much flawlessly.
Overall this was a somewhat overlooked gem at the show we felt, from very high production standards to a solid action game setup with customisation elements – it pretty much ticked all the right boxes for us. Whether this will get a Western release is anyone's guess though, as the PSP isn't so dominant outside of Japan these days.