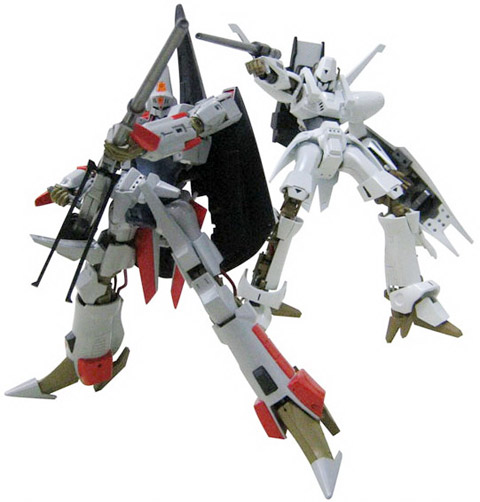 Along with a slew of other toy announcements today, Bandai have finally come clean on the fact they are indeed going to release Robot Damashii toys of both the L-Gaim Mk.I and Mk.II respectively. If you remember the Heavy Metal L-Gaim mecha, designed by the glam-rock-tastic Mamoru Nagano, topped the wishlist of fans for new Robot Damashii figures not that long ago.
Unsurprisingly, with such a classic Yoshiyuki Tomino real robot series it's been featured in numerous games over the years. From a variety of Super Robot Wars titles to the more recent first two Another Century's Episode games (not to mention Real Robots Final Attack, but we prefer to ignore that little "gem" if we can).
L-Gaim has also had quite an impressive toy history too, from lovely HCM figures to a very recent and utterly amazing Soul of Chogokin Spec toy. These new Robot Damashii figures will hopefully be a bit more affordable though. Currently there's no word on whether the L-Gaim Mk.II toy will retain the transformation but it's quite a simple sequence so it's quite likely it will. Both toys will be release early next year in Japan and can be pre-ordered here and here. What with us being massive L-Gaim nerds, we've also linked the lovely openings from the series as well as a few game clips of the respective mecha in action below.
Spoiler
[flash http://www.youtube.com/watch?v=0AGt7mdQLxw]
[flash http://www.youtube.com/watch?v=KB-rELB8Aaw]
[flash http://www.youtube.com/watch?v=XCZJN_TuXOQ]
[flash http://www.youtube.com/watch?v=hhIvtfGZMco]
[collapse]
Update: GAGraphic has some nice shots from the current Tamashii Nation show.