Courtesy of our good friends at HobbyLink Japan we've been sent the Super Robot Chogokin Mazinkaiser as seen in Mazinkaiser (though its origins predate that by quite a bit). In addition, we've also included some game and anime footage of the mecha in action at the end of the review.
Following on from our Super Robot Chogokin Shin Getter Robo 1 review it seems only to fit to cover Mazinkaiser, very much the follow on generation of brothers in super robot arms so to speak.
Created by Go Nagai, the original Mazinger Z was an important turning point for early mecha and pretty much defined the super robot genre. It was also one of the most widely distributed works of its era and as such has quite a substantial following outside of Japan. The original Mazinkaiser, much like Shin Getter Robo, had a similar gaming origin. Specifically, that of its appearance in the Super Robot Wars games.
Effectively, the Mazinkaiser is an earlier and far more brutal type of Mazinger. Deemed too dangerous it was hidden away, as its potency was regarded as a threat to both friend and foe. The design, compared to the original Mazingers, also shares more of a demonic and bat-like appearance (harking back to Nagai's earlier Devilman works).
In terms of toys, the most notable was that of the Max Gohkin and Aoshima figures. Both were large and heavy with diecast, though the articulation was somewhat limited. The Revoltech version was more affordable obviously, as well as being more poseable, but was definitely a budget release in terms of finish. So we're very happy that Bandai have finally stepped up and created this rather lovely figure.
Toy: Super Robot Chogokin Mazinkaiser
Price: 6,800 yen
Size/Weight: 18.4 x 19.9 x 8.0 cm / 480g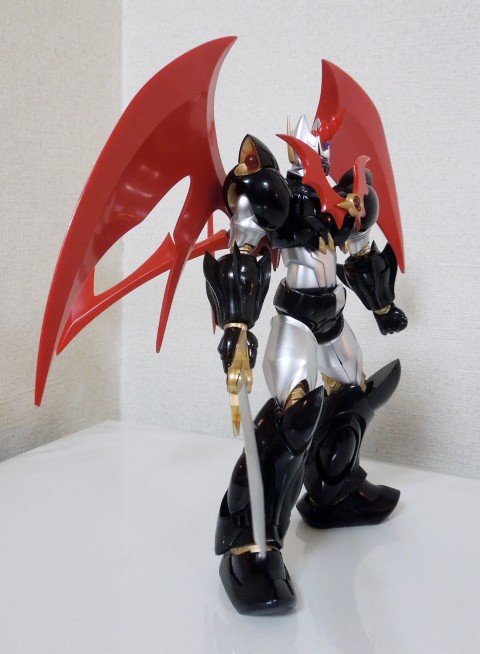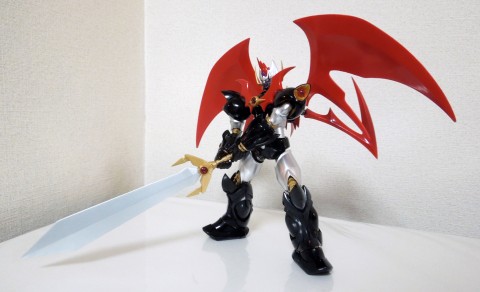 This version of the design has thoroughly excellent articulation, with retractable shoulders and pivoted ankles. The amount of diecast used is also more than decent for a figure in this price range and the sculpt is probably the best to date. The Kaiser Scrander has somewhat Revoltech-esque joints in terms of appearance, which are a little jarring considering the original design didn't have this visual cue. The build and poseability of the Scrander wings are great though, feeling nice and beefy. Apart from that, the toy comes with with two Kaiser Blades. One normal sized and one jumbo, with the latter being double handed. Sadly the spring loaded Turbo Smasher Punch isn't recreated on this figure (unlike the Aoshima toys) but the arms are detachable at the elbow.
Like the other figures in the Super Robot Chogokin line, this Mazinkaiser toy is both affordable and high quality. The articulation and build are excellent but all this comes at the cost of having limited gimmicks. Considering what you're getting for the price, this oversight is a fair one and not something we can realistically have any issues with. As such, if you're a fan of classic super robot designs then Bandai have done Mazinkaiser justice and consequently this toy comes recommended.
[flash http://www.youtube.com/watch?v=mZmG6z_5UUM]
[flash http://www.youtube.com/watch?v=kl59D7rWino]