Courtesy of our good friends at HobbyLink Japan, we've been sent a toy from Metal Armor Dragonar to review. Specifically, the Robot Damashii Dragonar 2 Custom that's on sale. In addition, to give the toy some context, we've also linked anime footage of it in action at the end of the review.
Following on from our Dragonar 1 Custom review, here is the mighty XD-02SR Dragonar 2 Custom as piloted by Tap Oceano. Very much the Guncannon of the group, its primary function was long range attacks with a variety of high powered weaponry.
The Custom is the powered up version of the original XD-02 Dragonar 2, so like the Dragonar 1 Custom it also sports built in wings and more potent weapons.
Unlike the Dragonar 1 toy, the Dragonar 2 isn't based on a prior Tamashii Spec release. Admittedly the standard version received a Tamashii Spec toy but this is the first time we've ever had a Custom toy.
What's more, this version has a fantastically Masami Obari infused sculpt to it and the detailing is in-line with many modern Robot Damashii figures.
We also used a Tamashii Stage Act 5 stand (sold separately) to help show the toy off a bit better. As you can see, it's rather marvellous.
Toy: Robot Damashii Dragonar 2 Custom
Price: 5,400 yen
Size/Weight: 20.1 x 19.5 x 5.0 cm / 200g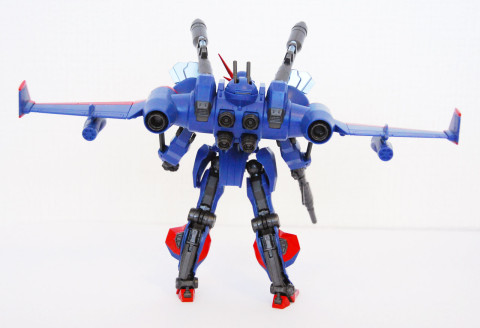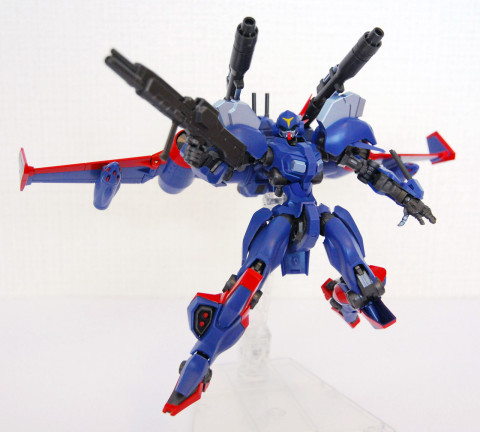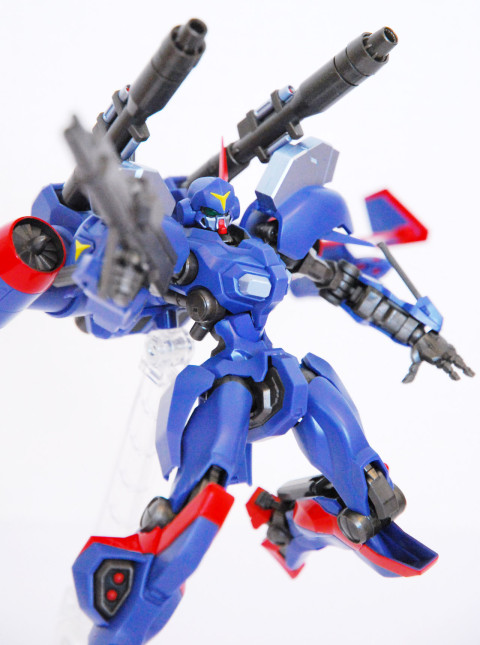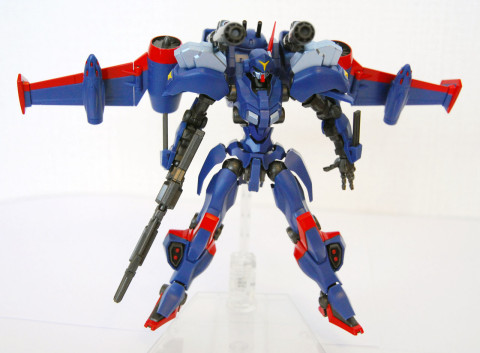 As this is a support unit for the group, we weren't sure Bandai would bother to do a good job of it but we were very wrong. While the design is quite straightfoward, Bandai haven't overlooked the articulation, sculpt or detailing.
So you get all manner of solid joints that hold poses very well but also all new wing articulation. This manifests as a middle gun turret that can pivot, jointed main cannons and foldable wings. The latter can also swivel to give a nice VTOL type effect.
Bar all this, you have two daggers stored in the calves and rail gun for the hand. As this is a support unit, it also lacks a shield and melee weapons.
The sculpt is fantastically Obari and is just lovely to behold. The fine detailing also helps to back this up even further.
If you're a fan of Dragonar then you should definitely pick this up. While Dragonar 3 will be a webshop exclusive, the fact you'll be able to have modern figures of the whole team is a wonderful thing indeed. Like with all Robot Damashii toys this also begs to be played with and as such we can thoroughly recommend it.
[flash https://www.youtube.com/watch?v=0ce1D50QIrE]