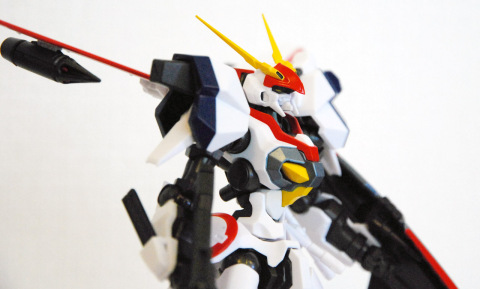 Courtesy of our good friends at HobbyLink Japan, we've been sent a toy from Metal Armor Dragonar to review. Specifically, the Robot Damashii Dragonar 1 Custom that's on sale. In addition, to give the toy some context, we've also linked gameplay and anime footage of it in action at the end of the review.
Dragonar was an interesting show back in the day, it sorta started off life as a follow on Gundam ZZ but quickly span off into its own thing. With a similar scenario, with the evil Giganos empire on the moon bombing the Earth with mass drivers it falls to the battered Earth forces to fight back. The weapon of choice being the newly developed metal armor mecha that was previously for labour and maintenance work in space. The latest generation of which are being worked on in a space colony. This is where our plucky and likable protagonists step in: Ken Wakaba, Tap Oceano and Light Newman. They stumble upon three very advanced Dragonar units and unwittingly activate them. Due to the software setup, they are then hardwired as the only pilots that can operate the mecha.
The story is actually pretty good and was originally handled by the very experienced Takeyuki Kanda, it took a lot of what was good about Gundam and made it more fun as well as more accessible (as you didn't need to follow the prior series to catch up, as there were none). It also featured the really great mecha design by the grandfather of real robot mecha, Kunio Okawara. What's also interesting about this show is how the likes of Masami Obari really influenced its styling, which is where we get onto this toy.
Now the XD-01SR Dragonar 1 Custom was the mid-season upgrade for the original XD-01 Dragonar 1. A far more powerful unit and very highly tuned at that. It was around this time that Obari started to influence things more on this show (as he'd handled the opening animations). This meant much of the designs were stylised as per Obari's wishes, including the titular mecha themselves.
A couple of years back, Bandai released a really nice Tamashii Spec toy of this design and ensured that Obari was involved. This is where the new Robot Damashii figure comes in. It's basically a slightly smaller version of the same toy, minus a few articulation points and no diecast. It's also absolutely spot on!
Toy: Robot Damashii Dragonar 1 Custom
Price: 4,675 yen
Size/Weight: 20.3 x 19.4 x 7.6 cm / 210g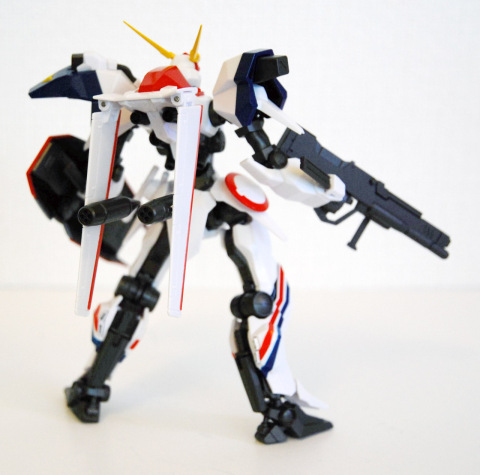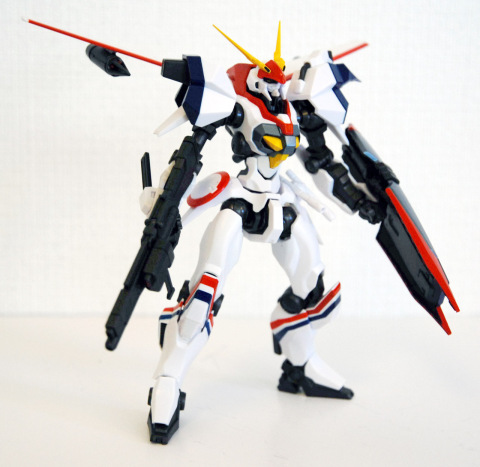 This is actually a slightly smaller and leaner figure than most Robot Damashii toys. However, as with the new toys in this line, it has very fine detailing and a pristine sculpt. The articulation is also mightily impressive and can hold poses brilliantly. Some of the articulation in the shoulder parts is absent compared to the Tamashii Spec toy but almost of what made that toy great is still here (at half the original Tamashii Spec price no less, or a third if you try and buy it now).
All the gimmicks and options are also present and correct. From the articulated wings, to the daggers housed in the calves. Not to mention the fact you can still swap out the ammo magazines on the rifle. Things like the shoulder and throwing bomb are fixed in place, as well as the compartments on the shield locked down but considering the price tag that is sort of understandable.
We have the Tamashii Spec figure and whilst that is really nice, we actually prefer this as a toy. It's been a while since the Robot Damashii figures have graced a proper toy, rather than a standard collector's piece, but this figure is something that is eminently playable. Thoroughly recommended to any mecha fans, doubly so if you like the anime too.
[flash https://www.youtube.com/watch?v=0ce1D50QIrE]
[flash https://www.youtube.com/watch?v=MUogBs8cdTY]