Our good friends at HobbyLink Japan have sent us the Play Arts Kai Sam Gideon from the suitably brilliant game Vanquish. Whilst we have talked about the game on the site before we haven't reviewed it, as it's not really a full on mecha title. However, its mecha heritage in terms of the design is pretty interesting. In addition, we've also included some game footage at the end of the review.
As a game Vanquish was an interesting take on the third person cover shooter, if only for the fact it added all manner of new functionality. Much of this was facilitated by much of the mecha context, as the game's protagonist Sam Gideon was donned in some pretty nifty power armor. Following on from that pretty much all the enemies in the game are some form of mecha as well.
One of the bigger mysteries of the game though was who had penned all this rather amazing mecha. Initially, many thought it could be Makoto Tsuchibayashi as he'd worked on things like Shinobi and much of Sam's design direction had come from Casshern (effectively a cyborg ninja of sorts). However, there was more to this and it's now clear that Shinji Usui is likely more responsible for much of the game's eye catching mecha design.
If only for the fact he designed the titular Metal Wolf power armor from Metal Wolf Chaos, not to mention the majority of concept work on Chrome Hounds too. So the fact that Sam's power armor looks decidedly boss is no coincidence considering that the pedigree of the mecha designers were on hand for the game.
Anyway, this toy is part of Square Enix's Play Arts Kai line. In terms of pricing it's along the same kind of lines to Bandai's Robot Damashii or Super Robot Chogokin toys. However, these Play Arts Kai figures are much larger and weightier. The trade off is that the joints, paint finish and general build quality aren't as pristine as Bandai's (smaller) offerings. That said, the Play Arts Kai range does have a lot of gaming specific figures available and in that sense they have cornered the market somewhat.
Toy: Play Arts Kai Sam Gideon
Price: 5,525 yen
Size/Weight: 28.6 x 25.1 x 10.1 cm / 600g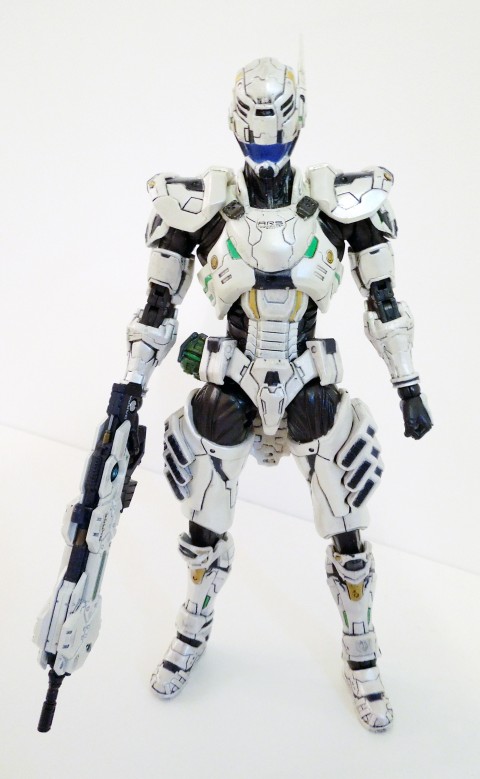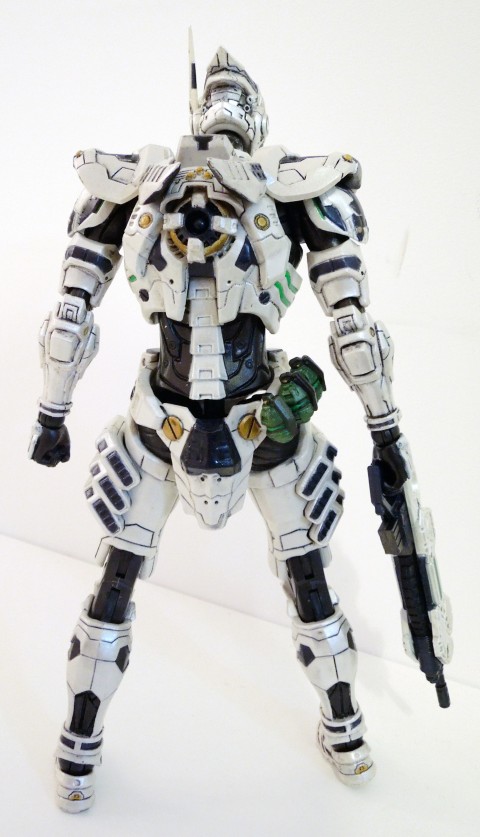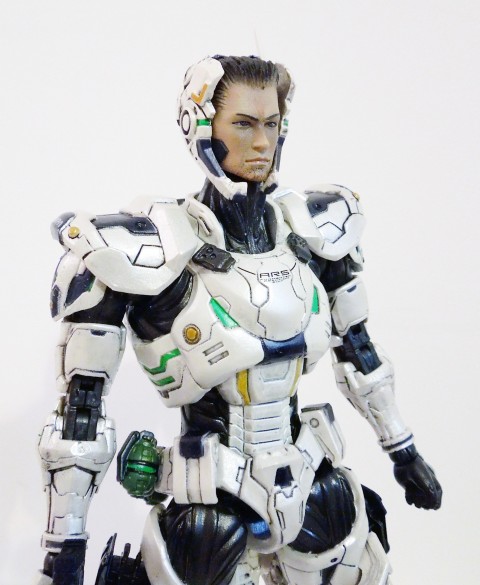 The figure has no diecast to speak of and the majority of the joints are ratcheted. The exception to the latter is that of the ball joints at the hip. These are somewhat loose and the legs can pop off when you try and do some more of the extreme poses from the game (though you can easily re-attach them). The paint job is mostly good, with some very nice detailing in places. Though some areas are somewhat smudged and whether this was a stylistic choice isn't entirely clear.
In terms of gimmicks, Sam can also have his head replaced with his helmet opened and the thigh boosters can also be swapped out (these took a little bit of prying though). Bar that there's not much else the figure can do.
As a display piece then it is nice and pretty large. The price point is reasonable for what you get and if you're a fan of the game then you likely won't be disappointed. Overall then this is a pretty solid and classic "toy". It's simple enough and whilst it feels a bit plasticky it does so in a good way.
[flash http://www.youtube.com/watch?v=kpYWRIFmRcU]