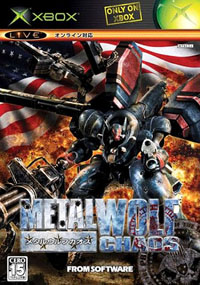 As a developer, From Software are known for their mechanical expertise but they also have several teams at work on other genres too. One such group birthed a selection of Xbox games that were functionally quite woeful but visually rather accomplished. The two Otogi games helmed by this team were consequently, and somewhat mistakenly, elevated by the Western press as being somehow noteworthy. At the time I was personally thankful that this same team wasn't undermining the work of the Armored Core series, which already had a hard enough time as it did abroad in terms of the press.
Then Metal Wolf Chaos was announced and it was apparent that the Otogi production was supposedly behind this, well at least on paper. In reality, many of the Armored Core team were apparently "getting involved" in the game's creation and the final result is something truly surprising and quite functionally invigorating.
The premise of Metal Wolf Chaos is quite unusual; the President of the United States of America has been subject to a coup d'etat by his very own Vice President. Michael Wilson, the usurped Pesident, isn't going down without a fight though and so he dons his custom power armor and tries to go on a cross-country campaign to re-take the White House. Each mission is contained within a specific environment, much of which can be blown to pieces along with whatever else stands in his way.
The game is very much a third person shooter with a very standardised dual analogue control setup. The only elements that really categorise the game within the mecha genre are its use of weight coupled with boosting. Admittedly, your power armor is equipped with a suitably ludicrous amount of weaponry (that inexplicably fits into the two large shoulder pods at the rear) but the weapons are not that far off human scale so the subsequent action feels more grounded as a consequence.
On first impressions though the game is a bit of a con. As the opening and subsequent in-game cutscenes, many of which were used to promote the game at launch, show Michael Wilson's "Metal Wolf" power armor flying through the sky and boosting around in a far more carefree manner than the game allows. Along with a selection of weaponry and abilities that are remarkably potent, such as landing on a tank from a height effectively crushing it, the cutscenes display a level of functional potency absent in-game. So when you finally enter into the game, the amount and speed at which you can boost around is hugely reduced. Couple that with the somewhat underpowered starting weapons and you do feel as though you've been partially duped.
This was something that took a while to shake off, as the sheer amount of functional restriction was hugely irritating especially after playing the far more free form Armored Core games. That said this "tsundere" approach is very much a From Software calling card. After pouring more time into the game it gradually became apparent, through subsequent weapon acquisitions, that Metal Wolf Chaos was a fiendishly well crafted shooter. The boosting that initially drive me somewhat spare, was actually quite nuanced; as the initial acceleration on a boost could be used to travel faster and more precisely if carefully chained together. In some ways it was almost akin to fathoming the depth in GunValkyrie's approach to boosting, though arguably this was far more straightforward. In any case, it was becoming very obvious that the game was incredibly good.
Then there's the story and this was probably why the game engenders such a cult following. The voice acting was entirely in English and hugely hammed up with it. Many initially thought that the narrative was actually delivered straight and that's what a Japanese developer, such as From Software, actually thought about the American Presidency. In truth, it was actually quite clever satire as much of the game purposefully exaggerates the selfish arrogance and insecurity of those in power, as Michael Wilson ultimately destroys half the nation he is trying to take back, including a memorable section where you attack an armored version of the White House (shrewdly called the "Fight House"). As far as he is concerned, Wilson still thinks it's "his" country and screw the Republic. It's just that the way Japanese satire displays this obvious hypocrisy as being overtly silly, rather than through acerbic wit, meant that many took the whole setup literally.
The really interesting aspect to the narrative though was how it displayed the fickle nature of the American media and especially the news networks. As the moment Michael Wilson is ousted, he's labelled as a terrorist and even the fictional "DNN" network openly approve of the fascist mindset that the nation has descended into. The parallels with networks like Fox News are subsequently quite unnerving and you get the feeling that this was entirely intended.
Apparently this satire hit too close to home and the game was held back from a Western release. The fickle portrayal of the American media was something most Western publishers were very much wary of (as the media was responsible for promoting their gaming output). However, From Software had unwittingly used an unsanctioned version of the Presidential Seal, which gave many American publishers a way out. Ultimately, the lack of a European release belies the real issue here as there is no reason why the Presidential Seal couldn't be used abroad (after all game was successfully published in Japan without any problems).
Satire aside, Metal Wolf Chaos is very much a well wrought game. From the large selection of disparate weapons, to the intricate environments it's a game that has to be thoroughly investigated. Despite the somewhat ostentatious presentation the game is actually quite nuanced and, to fully appreciate its functional scope, a similar level of insight is required as with From Software's other games. It is more approachable in terms of its controls compared to something like Armored Core, which has a level of notoriety in that department, but it still expects the player to invest their time and skill to master the Metal Wolf. Once you reach this threshold, the game opens up into a playground of unbridled destruction.
Overall, Metal Wolf Chaos is a game many could initially play but not necessarily master. Couple that with its very Japanese satire and you have a game that's probably quite misunderstood but has weathered that in a uniquely positive manner. There's a lot more to this game than many may appreciate but if you persevere there's something rather wonderful in store.
Tamashii: 9/10