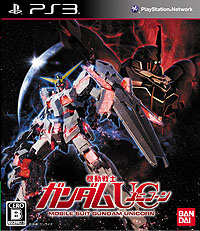 There are a few times when developers take on projects to test out ideas and build their technology resources. Sandlot made a little tie-in game for a live action mecha show that allowed them to later build the very wonderful Gigantic Drive. Likewise, it seems From Software took on Gundam Unicorn to improve their prior beleaguered attempt at a then new Another Century's Episode game. Subsequently, Gundam Unicorn is in places a bit of a testbed as well as proof that the older Another Century's Episode games still have a lot to offer in terms of gaming functionality.
Gundam Unicorn also affords a new kind of DLC setup for this kind of game and one that isn't wholly irritating either. As such we're relieved to play something that turned out to be pretty compelling and suitably polished.
The game is split into two distinct modes; Unicorn Mode and Custom Cast. The former tracks the narrative of the first three episodes from the anime via the vantage point of several characters. The latter is a more free form mission mode where you can build up your own mini-fleet and do a variety of missions. Whilst the main nascent emphasis of the game is on Unicorn Mode, the most fun we've had is definitely in the Custom Cast setup, though more of why later.
Functionally the game plays very much like a weightier version of the last two Another Century's Episode games on the PS2. Even down to the shift command setup for the weapons, this genuinely feels like some of the old team have come back to re-address the balance that Banpresto, and especially Terada, did so much to undermine. The old ballistic boosting approach is thoroughly back but with more of a penalty now if you overshoot and fly by your target. Even the close combat is far more manageable, though they've still retained a partial cinematic approach which can play havoc with the camera at times.
What's interesting about the handling though is that despite the inferred weight of the mobile suits none of this has been done through a false-Newtonian sense of inertia. Instead, the weight comes from an animation delay between inputs. Admittedly Havok middleware is being used in this game but it seems to be more with the animation than an actual physics system for the handling. That aside, this setup means you still retain your positional precision but also a sense that these huge mecha can't instantly respond to your inputs. Whilst this isn't like the classic and almost tiwtchy Another Century's Episode games, this change makes Gundam Unicorn a tacitly tactical game.
This approach is very deliberate though and is to do with doing justice to the host work. For instance instead of having a magical boost bar that refills, all mobile suits have a finite amount of fuel. Admittedly it won't run out very quickly but, like your similarly limited ammunition, you have to resupply in the field as well as make every shot count. The supplying element is also handled quite nicely too, by having small drops dotted around a level which you simply fly up to. Some enemies will also afford a re-supply option prior to their death animation, if you're quick enough to pick them up that is.
What's slightly at odds with this now is that enemies still require a significant amount of hammering before they die. Normally this wouldn't stand out but considering the deference to the host work in other areas of the game, the fact you have to repeatedly slash away at an enemy with your beam sabre is a tad jarring. As you'd expect you can also tune your mecha and pilots to be more resilient and potent, but this is something that degenerates into pretty heavy grind fest to amass a significant level of funds.
This brings us back to the two modes again. Unicorn Mode is very much linked to the events in the anime, so after you've watched some rather lacklustre and static "movies" you get to play a mission. The restrictions on what can and can't happen in the missions on account of the host narrative makes the missions somewhat awkward in places. This is especially noticeable when you have lengthy in-game cutscenes and no real visual charactersation present. There are a few genuine moments of brilliance though, but these are linked to the missions with the Nahel Argama present. Making the battle feel more fluid and exciting.
Subsequently the Custom Cast mode pretty much affords this sense of a fluid battle in every mission, as you can bring your own warship along for the ride. In addition, the removal of a top down narrative makes the missions more engaging and varied, as you're not tied into doing things a certain way. Whilst you do have fleet battles, you still remain the kickass superstar that can do it all on his own but the addition of allied units means you can complete the base objective quicker and unlock the harder elements of each mission. This then ties into the more difficult mission paths that are then unlocked as you progress.
Naturally, you can't just start up with a huge fleet from the off either. Instead you need to build up your allied credits through playing the easier mission branches. So as each element of your fleet builds up you do end up appreciating their presence more.
The last element of the game that works a lot better than we expected was the DLC infrastructure. Whilst there is a large store presence on the main menu, the DLC elements are also shown (once available) in Unicorn Mode as well. So you can see the missions your missing. Considering that there is a lot of free DLC too and that the pricing of the paid DLC is reasonable means that it doesn't feel like an afterthought. Not to mention that the prequel narrative that's available is actually some of the most compelling part of Unicorn Mode. What's more interesting though is that in theory, the latter part of the anime's narrative could also be released as DLC rather than another game. Whether this happens though remains to be seen obviously.
Overall then, Gundam Unicorn is a solid and compelling game that is faithful to the host work but ultimately is more fun when you branch off from it. Visually it's decent too, though some environmental elements look a bit dated but in general it's pretty good and the shadowing is fantastic. The lack of multiplayer isn't an issue from our point of view either, though your mileage will vary on that. What this game does do though is renew our hope in not only From Software but also that the next Another Century's Episode game will hopefully have built upon this very sturdy foundation.
Tamashii: 7/10