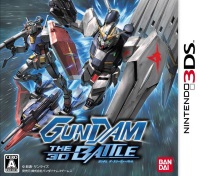 One of the main factors in Artdink's renaissance as a studio is how it managed to land the Gundam and Macross licenses. Turning them into very capable PSP games and a few decent PS3 games to boot. The former of these licenses started out as the Gundam Battle series and this is where we come to The 3D Battle.
Much like the previous Gundam Battle games The 3D Battle re-uses content but unlike the execrable Assault Survive, it remembers that this is foremost a handheld game. As such it's much more in line with the older games in the series and subsequently pretty damn good.
The game is split across three main sections corresponding to three eras of Universal Century Gundam. Namely the One Year Way, Zeta and Char's Counterattack. Following this there is an Extra and VS section with additional missions, some of which include mecha from Gundam Unicorn. On start you pick your side for each campaign and this in turn gives you different missions and mobile suits to choose from.
Once in game it is pretty standard Gundam Battle fare. In that you orbit enemies via a fixed lock-on in either land, water or space and use all manner of ranged and melee attacks on your foes. The shooting setup also retains the auto-targeting mechanics. This is why you hold down shoot and the reticule auto-leads the target. Following this we now also have different weapon types that either do pure damage or damage that the enemy can regain. Melee attacks do the latter until the combo is complete and then the damage inflicted becomes permanent.
Most weapons have finite ammo that once depleted needs to recharge. You can then switch to your other weapons or initiate a special attack. The latter's gauge fills up over time and is sectioned off into six portions. Basic specials use one portion, whereas more potent attacks use more. The other key aspect to all this is the upgrading of your mobile suit.
Mobile suits accrue upgrade points when you use them on a mission. You can then use these points to upgrade the unit itself as well as its various weapons. Points are non-transferable between suits, meaning you have to sometimes grind missions in order to upgrade your mobile suit enough to survive an encounter. Now normally this would have been the case but we now also have additional points earned separately that can be cashed in for use on a particular mobile suit. This hugely alleviates the grind seen in the old games and allows you to max out units quicker without the burden of having to replay missions incessantly.
The big change to this game though is its use of 3D. In general, the 3D side of things is handled really well and the engine has had a partial overhaul from the PSP games too. partial in the sense that it looks and feels warmer but lacks more bespoke memory management. In that, it was likely that the memory management for the 3D wasn't re-written for how the textures are handled. This means that bigger units, such as mobile armors and capital ships, have very bland and washed out textures.
This visual blip aside, the game does look and run pretty smoothly. Whilst there are a few framerate hiccups here and there, for the most part it is really solid. Controls are also taut, with movement handled via the analogue stick and camera via the d-pad. Though the camera doesn't really need to be modified in-game much, as the fixed lock-on takes care of proceedings. It is a nice touch though, as you can ogle your mobile suit if you want.
The touch screen isn't really used much but the upside of moving the bulk of the HUD to the lower screen, means the top screen is very clean in terms of visual messaging. The new UI is also nicely clear too, as it's larger than the PSP counterparts.
The general downside, bar the washed out textures, is that content-wise it's a bit light and we've played these games before. Whilst it doesn't feel like a budget release, as there's definitely enough of a game here, not much of it is new. That said, it is competently executed and the game is still compelling (if only for the fact we can still play with the Hi-Nu Gundam).
If you have a hankering for a bout of Gundam action, then this is actually worth a play. Especially if you've never played any of the PSP games. As such we can recommend this to most gamers who like a fast paced action orientated mecha shoot-em-up.
Tamashii: 8/10
Nintendo 3DS games are region locked, so you'll require a Japanese 3DS to play this game.