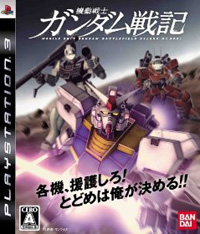 When the PlayStation 3 launched in Japan back in 2006, one of the available games was that of Gundam Target in Sight. Put simply, it was pretty awful. It ran at a hugely inconsistent framerate and was deeply unbalanced in the initial part of the game's learning curve, often pitting you in sub-standard hardware against well armoured foes that could kill you with one shot. Couple that with the framerate and you rarely saw the shot that actually killed you. Unsurprisingly the game was wholly panned upon release and didn't exactly do the PlayStation 3 many favours, as it was a platform exclusive.
Now fast forward to the recent Japanese release of the PlayStation 3 Slim and again another exclusive Gundam game has been bundled with it; that of Gundam Senki. However, despite using Target in Sight's engine as a base it's a completely new game and much like the PlayStation 2's Lost War Chronicles (which we've also reviewed) this title has a lot more going for it than many may appreciate or initially realise.
It's probably worth covering at this point the narrative background the new Gundam Senki is placed within, as instead of having it set during the One Year War of the Universal Century timeline it's actually fulfilling an actual aspect of the wider narrative. The game's subtitle should give it away somewhat, as the plot is centered around the events during UC 0081. This is an interesting date as it places the game squarely between the prior events of the One Year War (UC 0079 – 0080) and the later aspects seen in Stardust Memory (UC 0083). As a consequence, the story is a fully fleshed out part of the Gundam canon and the production values in the game are equatable to a modern anime OVA. You have beautifully animated cutscenes and even more impressive is the usage of anime cutaways, a Gundam staple, used in-game. This means the game feels very much grounded in the UC timeline Gundam mythos in a way that few games ever have. There's even a dedicated one shot OVA that frames the back story for the characters in the game, which is available via the PSN store with a download code you get with the game.
Separately and quite interestingly is how Gundam Senki utilises parts of the M-MSV (or MS Collection) back catalogue of mobile suits. Notably that of the RX-81 and RX-78-7. Up and till this point, these were merely designs penned from the mind of Kunio Okawara. Now they fulfill a tangible narrative purpose as they cleverly preface the technology utilised after UC 0081. The designs have also been subtly updated by mecha magnate Hajime Katoki and the final results look positively beefy.
Despite the very well thought out and executed narrative, the game itself is actually surprisingly good. I say surprising, as the engine it's based upon was pretty dire the first time around. That said, it's clear now that Target in Sight was barely half way through its development when it was released and Gundam Senki is clearly using a very polished and thoroughly optimised game engine. As such the engine runs at a consistently high framerate and with far more effects than it previously did. The only downside is that the draw distance can be a little short at times, as bits of the environment will fog out and certain shaders produce a strange pixellation effect when seen up close. Bar those aspects, visually and functionally the game is already in a far better state than its predecessor.
The main bulk of the game is based around piloting a variety of mobile suits from a third person viewpoint in a selection of missions. Combat is mixed between ranged and melee and you also have two wingmen along that you can issue commands to. The latter is especially important the more you progress through the game but more of this latter. Prior to each mission you have a garage section that allows you to select your mobile suit, its armament, optional parts and finally attend to the pilots themselves. In the garage you can also assign different wingmen commands from a suitably large menu, tailoring this on a per mission basis can make a huge difference and choosing wisely (as you only have eight slots to use in-game).
Despite all this, the garage section is very much streamlined compared to the unnecessarily complex nonsense that was in Target in Sight. The optional parts are very simple and straightforward in their effects and don't need a stupid amount of micro management. You literally pick your mecha of choice and then proceed to blow up anything daft enough to get in your way. That said, the more you progress through the game the more attention you apply to the number of ammo magazines you pack can make a very important difference.
This is down to the fact that a default suit only has one extra magazine. This means you're often having to re-supply your ammo and often the tactical element of placing yourself near enough a supply point so you can do this becomes overly apparent. It also forces you to engage in melee a lot more than you would otherwise, as that's all you have against a team of five Zakus once your machine gun makes that fateful clickety click sound.
This is where you wingmen come in, as stemming the enemy tide whilst you re-supply is something your wingmen (once sufficiently powered up) are very well suited for. In addition, when the difficulty curve apparently spikes (in that you face a veritable army of mobile suits) it's worth remembering your wingmen aren't just there for show. Applying as much care to them in the pre-mission setup will pay great dividends in the later parts of the campaign.
Missions are varied enough as well, not only in terms of the environments themselves but also the objectives within them. There is a modicum of texture tiling but the geometrical layout of the levels themselves makes up for that. In the final section of the game you also end up on the Moon and the game changes gear somewhat as the reduced gravity makes boosting around a lot easier.
Despite all this, the biggest and most impressive addition is the very thorough online option. With up to eight player online multiplayer. You can either play through a co-op type of campaign or go head to head in a number of versus options. That said, due to the location of the servers and that the vast majority of the people you're playing with are half way around the world, getting into games can take a while. However, if you set up your own games this issue of online geography is mostly negated.
Overall, the new Gundam Senki, like its PlayStation 2 namesake before it, is a very solid and enjoyable ground pounder of a mecha game and unlike Target in Sight it's a game the PlayStation 3 should be proud to have in its library.
Tamashii: 8/10