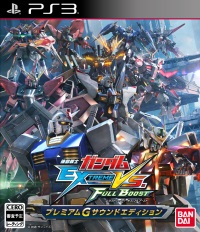 Not long after the first game was released on console, Bandai Namco announced a new arcade game would follow. That was nearly three years ago and in that time Full Boost has been a huge success in the Japanese arcades. Since coming back to Japan we've availed ourselves of the omnipresent arcades and naturally played a large amount of Full Boost too.
As we come from a game development background, primarily that of design, it's interesting to see how much work went into Full Boost. To look at, the game doesn't appear to be doing all that much new and could even be regarded as just a shallow cash-in. In reality though, that is a painfully inaccurate appraisal. There's an enormous amount of improvement across how the game operates, consequently this is one of the most engrossing and rewarding versus games we've played in a long time.
Compared to the arcade original, a fair few engine optimisations have occurred in the console port. Much of which beneficially effect the game's input framerate as well as some nicely nuanced rendering changes. These aren't huge improvements but still noticeable and are thoroughly welcomed. However, the bulk of the important changes have occurred in the design department.
Now when we say design, we don't mean high concept idea nonsense. Design is fundamentally about making the game work on a mechanical level. This means getting into the guts of the game and changing all manner of variables as well as changing whole rulesets. It's arduous and specifically quantifiable work. This is where the majority of Full Boost's improvements have occurred.
The biggest changes have been to the range and melee balancing over the previous game, namely that melee combat is not as potent as it once was and shot accuracy and power have been decreased. This has brought the whole game into a more mid-range affair and allowed more leeway in terms of dodging incoming shots for the player. To free things up some more, the area of each of the arenas has been slightly increased as well.
The other substantial change is that the EX Burst was split into two types; Assault and Burst. Put simply, Assault takes the offensive aspects of the old EX Burst (but has a shorter duration) whereas Blast takes the defensive elements instead. This means the usage of EX Burst now has a very different tactical make-up and isn't the last ditch game changer it originally was. In that you can now use Blast burst to create or press an advantage, rather than just curb stomp someone.
The corollary of all these changes is that Full Boost has become far more of a tactical game than its predecessor, as well as facilitated the four player aspect to be less random (as you get spammed a lot less now). Considering these changes had to be balanced across close to a hundred units means the game has had a substantial amount of work done on it over the years. To not notice this kind of very obvious body of work would be frankly idiotic.
This is not to say that this console port doesn't have a large amount of new content. The all new mission mode is a lot more manageable now, as each mission has a variety of difficulty options rather than the crazy map setup from the previous game. There are also nowhere near as many insane difficulty spikes in the missions compared to the previous games. Skills also have to be unlocked from certain missions and you can customise them to a greater extent now. Specifically that each skill can be upgraded but only a certain amount of upgrading can occur per unit. This means you can cherry pick what elements that will best fit that mobile suit.
The online options are also great and the netcode is very smooth regardless of connection (though we should be upfront that we're playing this in Japan). Players are also very polite and thoughtful, mirroring the arcade scene.
As for the downsides, the new "Navi" system can be pretty creepy. In that you can purchase a character, often female, to give feedback after each match as well as in the front end menus. If you get the game at launch you get a Haro Navi for free and that's pretty cool. However, the female Navis are a bit maid cafe-tastic and that's just unsettling. Admittedly your mileage may vary on this but from our standpoint it's a definite minus. Thankfully you can turn the Navis off entirely.
This also partially feeds into the DLC and online setup in general. The DLC pricing is, as you'd expect from Bandai Namco, pretty excessive. All the HUD variants, Navis and character portraits are pretty damn expensive. The unit DLC is also similarly overpriced and, to make matters worse, very generic. To clarify, there aren't that many new units and instead we've been graced by all manner of sideshow clones from various series. This means that many of these DLC units actually share the same movesets as mobile suits already in the game. So you're almost buying units again that are already included in the game.
The last aspect to the online, and arguably the most disappointing, is that Bandai Namco have attached an online pass to this game. So if you buy the game second hand or borrow it from a friend you'll need to buy an online pass to play the online multiplayer. If you buy a new copy you obviously get the pass included but this kind of draconian measure is just very disappointing.
The game also comes in two varieties, a standard version and a Premium G Sound Edition. The latter features a lot more licensed music and has an increased price tag to probably cover the license fees off. Both games are functionally identical in terms of game content though.
Overall then, Full Boost is a marked improvement over the previous game and is a huge amount of fun to play. However, all of these improvements have been marred by Bandai Namco basically being greedy bastards when it comes to how the online and extended content has been handled. That aside though, Full Boost is again testament to the fact that there are thoroughly excellent Gundam games out there. Regardless of whether you're a fan of the Gundam mythos these games are still really bloody great.
Tamashii: 9/10
The version reviewed was the Premium G Sound Edition but the standard edition is effectively the same, just with less music. We also played the game with a DualShock 3 as well as with a HORI Real Arcade Pro stick.