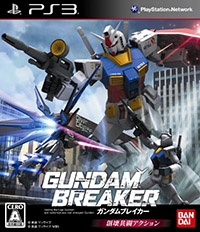 Generally speaking, most Gundam games are very much limited by what they can do functionally due to the host work. However, Bandai took a step back and thought about all the lovely kits associated with the franchise and decided to make a game about that instead.
It was a shrewd decision, not only because it tied into one of the most profitable parts of their business but also allowed a huge amount of design leeway in making an interesting game. Specifically down to the core nature of kits; that they are built from component parts. What transpired was a fascinating game but sadly somewhat mired via a few ill-fitting mechanics from other freemium type games.
The basic premise of Gundam Breaker is that you build kits from a variety of parts and then play in a simulation to accrue more parts and build better kits. This is somewhat similar to what happens in both Gunpla Builders and Gundam Build Fighters, though with one major difference; the kits can use any parts and are not design specific. This means you can build a Franken-Gundam of a variety of parts and the benefits to this will be fleshed out a bit later.
The main game itself also retains the various scales used for Gundam kits, or Gunpla, with you primarily playing at 1/144 scale as you square off against other similar scaled mobile suits as well as bigger scales, such as 1/100 and the bosses being at 1/60. This also means that some of the environments reinforce this scale element, as you fight on model kit tabletops and other such areas. The context of piloting your own kit is done very well.
The game itself is an interesting one though. To all intents and purposes it's effectively a more focused version of Gundam Musou. In that you face fewer though more potent enemies with ranged or melee attacks as well as having an optional fixed lock-on. This means you still brawl with groups of enemy kits but due to the reduced number and their increased potency the combat is more complex, as more is at stake (so you can't just rush in blindly). The not-quite-cannon-fodder approach is a good one and it fits neatly into the part harvesting and progression, as parts are important and awarded with a good sense of progression for the most part.
The kit customisation and the necessity to use non-standard design parts is also crucial to progression, as no single part affords a clear winning design. Instead, it's how the part attributes cluster together and how the finished kit as a whole is balanced. Part drops are also governed by chance, as not every enemy kit will drop them, and the harder missions tend to produce more potent parts. You can also buy whole kits in the game's shop too, in case you want to bypass the grind.
The grind is something that needs to be mentioned though. There are option parts that can afford greater number of part drops but these are awarded fairly late in the game. Instead, there are options in the shop that you can buy (with real money) to increase the chance of more frequent and better part drops. Without these bought options, the game degenerates into a grind fest about two thirds of the way in. Where you hit a wall against very tough enemies and have to go back to earlier missions in the hope of farming better parts. With the bought options equipped this becomes far less of an issue. As a result, you have a game that feels nicely balanced up and till the point it takes the fun away and tacitly expects you to pay more money to proceed.
This is the point of contention; as the levels themselves play well, as do the boss fights, but this grind does kill off a lot of the game's enjoyment. Especially as by the time the grind kicks in you've already had a lot of fun dispatching enemy kits to the Gunpla afterlife, so it's a jarring transition and as such feels quite out of place when you have to pay money to remove the grind.
Overall then, Gundam Breaker is a solid and enjoyable game with decent combat depth as well as broad customisation options. The pacing and missions are initially nicely laid out but towards the latter part of the game, unless you pay to make the game easier, you'll have to grind a fair bit to progress further. Depending on your attitude towards grinding then this will affect your overall enjoyment. As such, the game comes recommended but has ill-fitting freemium mechanics tucked away within it.
Tamashii: 7/10