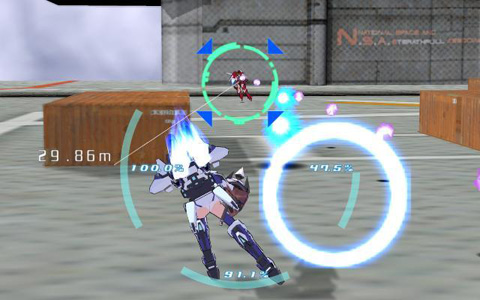 What do you get when you combine Sega's Virtual On and generic anime babes? Why, you get Val Force of course, a doujin game from Yumesoft (it appears to be their one and only release thus far). I tried all morning in vain to get the demo to work on my end; after a lengthy download session… it always takes me forever to nab anything from Japan… the game simply wouldn't run, and I'm not sure why, since I don't understand Japanese. But I think it has something to do with me not having the latest DirectX installed, though being on a Mac via Bootcamp might be the real culprit. Anyhow, going by the video alone, it appears to be a thoroughly competent VO clone, provided if you don't mind the extra dose of X chromosomes.
Spoiler
[flash http://www.youtube.com/watch?v=7IwRUOzuLhE]
At least the cast isn't all moe, which is somewhat of a surprise, given the archetype's popularity as of late. Though to be honest, instead of girls that vaguely resemble Temjin or Bal-Bas-Bow, most appear to be from shmups, either from Triggerheart Exelica or Otomedius, primarily the blue haired character. You've also got one that has shades of Anubis, from Zone of the Enders, along with this other one who vaguely resembles Eika Ichijo, from Sky Girls, or at least the mecha suit. Sorta. Okay, not really. Anyway, for those that wish to give it a try, the demo can be attained here (hope you all have better luck than myself). Via Select Button.
[collapse]