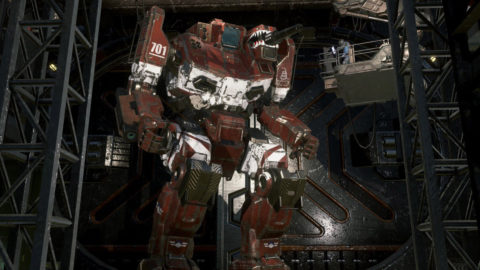 For those that have been playing MechWarrior Online, it seems that the same studio Piranha Games has also been working on a new mainline game in the series. Titled MechWarrior 5: Mercenaries it's now made the shift over to Unreal Engine 4, from MechWarrior Online's CryEngine. In the latest reveal trailer (shown below), we get to see an old Shadow Hawk taken through its paces (shown above). This particular unit is also one not without controversy, as like many of the early BattleTech designs the Shadow Hawk was actually a straight up copy of the Dougram.
Now, when I interviewed Kunio Okawara, the designer behind Dougram, and Rysosuke Takahashi, the writer and director for the series, fairly recently neither seemed that fussed about this kind borrowing of material. However, Takahashi did make a point to say that it was really Sunrise's call on whether anything should be done about the situation. That said, when I also interviewed Shoji Kawamori about his designs being used in BattleTech he wasn't best pleased.
In short, even after all these years the BattleTech and subsequent MechWarrior games are still not free of this Unseen controversy. The fact that MechWarrior 5 went with the Shadow Hawk as part of its reveal seems a strangely unnecessary move, when they can clearly design something fresh and new instead (though this version of the Shadow Hawk has already been reworked quite a bit). This is also something of an ongoing issue with the MechWarrior series, as I covered some licensing issues back in 2009.
Personally, I am glad to see a new mainline MechWarrior game but after all the ineptitude surrounding MechWarrior Online I am not holding out any hope that this will be any good. Currently, there is no news of a release date or platform but I am guessing it will make its way to PC at some point.