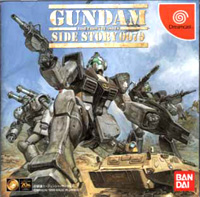 Back in the day, many a Gundam game had the player pilot the RX-78-2, and consequently steer the neurotic Amuro Rey, through a treacherous future of civil war and political intrigue. This stuff sold, by the bucket load. They were generally pretty abysmal games, however. Thankfully, somebody at Bandai decided to correct matters.
This epiphany in Gundam gaming came in the form of Gundam Gaiden (aka "The Blue Destiny"). There were a total of three games released for the Sega Saturn that enabled the player to control a bog standard Federation "GM" mobile suit. A far cry from the uber-powerful eponymous Gundam. In short, the player was a grunt, and had to work their way through a series of particularly tough campaigns. Each "game" was merely a chapter in the overall plot as well, and also saw the player being awarded with progressively more powerful mobile suits as they progressed. The Gundam Gaiden trilogy of games is very much respected by many a mecha gamer, so you can imagine the fervour when Bandai announced a successor for this superb series of games on the (then) new Dreamcast console.
Despite the obvious graphical improvements, the biggest modification to the series was how you could directly control the actions of your wingmen. Admittedly the game's focus was predominantly action based, but the real time tactics element added a whole new dimension to the, already very solid, gameplay.