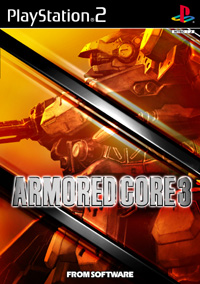 Forcing balance can be a tricky thing with game design, especially when it comes to sequels. If you have already set a precedent on acquiring ever more powerful weapons in a game franchise, to deny that in a sequel would (most probably) irritate the hell out of your customers. In this particular case, From Software got it right.
Set in a post-apocalyptic future, where mankind has retreated to the sanctuary of underground cities, humanity is still in the throws of petty corporate warfare. Disregarding the possibility of human extinction, the corporate schmucks decide to speed up the carnage by hiring mercenaries. This is where you come in. Your ride of choice is a fully customisable mechanical monstrosity, an avatar of destruction if you will. You goal is to take on missions and proceed to earn cash to buy more parts that can kill things quicker. In short, it is great cathartic fun.
The big changes in Armored Core 3 are several fold. The first big change is that the game is now four player. Matches can either be free for all or team based. When team based, the first side to destroy the opponent's "Leader" wins. A system not all that different from Hitmaker's (rather disappointing) Virtual On Force. In the missions part of the game this follows on somewhat. On some missions you are allowed to hire "consorts" to help you out, this can be extremely helpful on some missions.