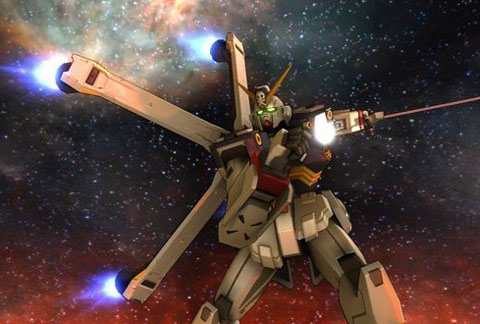 Over at Famitsu they've released a bunch of very shiny in-game screenshots for the upcoming Gundam Extreme Versus. This is the first game in the series to use the System 357 board, effectively a PlayStation 3 in a box – so the texture detail and geometrical complexity are obviously going to be a pretty big step up from the older games.
The coverage shows three mobile suits specifically, each of which are new to the series; the EMS-10 Zudah, the MBF-P02 Gundam Astray Red Frame and the XM-X1 (F97) Crossbone Gundam X-1 (pictured above). In terms of the latter, Crossbone Gundam is getting a fair bit of a resurgence as of late with the mecha also being featured in the upcoming PlayStayion 3 exclusive Another Century's Episode R.
No word on an exact release date for Gundam Extreme Versus as yet but it's still slated for an Autumn release. However, the Famitsu article does also state that the game will be using a new card system as well as boast HD 16:9 displays for each of the cabinets. Due to the host hardware, it's fairly safe to assume that a PlayStation 3 port will swiftly follow.
Update: There will be a loc test for the game next weekend (May 7th to 9th) at the Nakano Broadway Plabo and Tokyo Gulliver Matsudo.