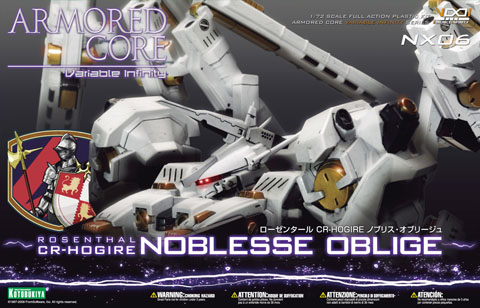 Courtesy of our good friends at HobbyLink Japan, we've been sent a kit from Armored Core 4 and For Answer to review. Specifically, Kotobukiya's 1/72 scale Noblesse Oblige. This is an important design, as it was originally used to promote the original Armored Core 4 before its release (specifically in two trailers here and here). It also heralded the shift in mecha design towards the very talented Yuzo Kojima.
Our review only covers the kit in its out of the box and unpainted form (however, we have also included painted photos towards the end). In addition, to give the kit some context, we've also captured some HD gameplay footage of the design in action from Armored Core For Answer.
The name of the design itself originates from the French term that means "nobility obligates". In that those with wealth and power should conduct themselves in an ethical and moral manner towards others. This is implied that the pilot, or Linx, of this particular Next by the name of Leonhardt had an overtly ethical nature – that despite the fact he was a mercenary hired by ruthless and omnipotent corporations that ultimately he would conduct himself in a sympathetic manner towards the civilian populace.
There were further nuances with this in For Answer, where he sacrifices himself to save the power generation plant housing the remainder of humanity cruising at high altitude in the massive Cradle ships. Unfortunately, much of this subtlety was literally lost in translation. So the design doesn't quite have much of the narrative impact with Western fans of the games. That said, the visual impact has been profound as the "wings" on the back (designated as part EC-O307AB in the games), which are actually separate energy cannons, have become hugely popular online.
Kit: 1/72 Rosenthal CR-Hogire Noblesse Oblige
Price: 5200 yen
Size/Weight: 33.5 x 21.5 x 13.0 cm/850g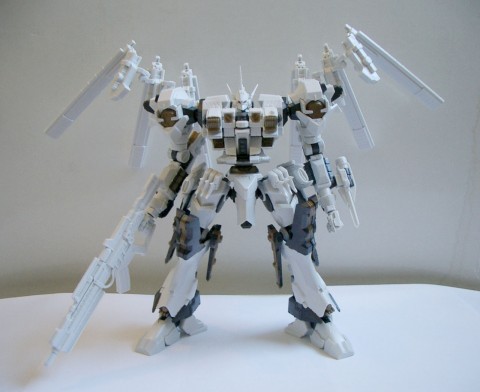 There aren't many gimmicks in this kit but it does afford the OB hatch opening, as the mechanism slides up and out to allow the lower casing to open.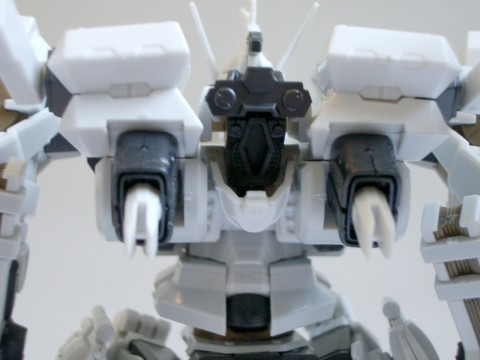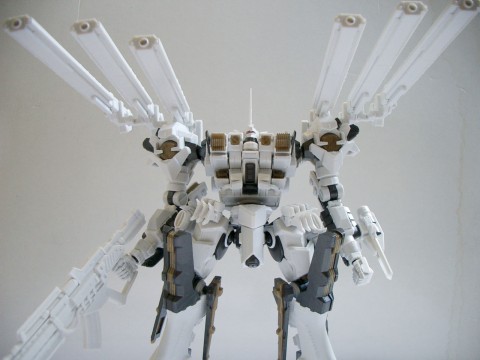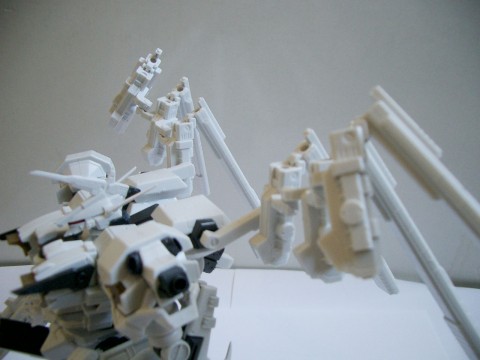 Unlike Bandai's almost snap-fit toy type kits in regards to their Master or High Grade ranges, Kotobukiya's models aren't quite so straightforward. The assembly is similarly snap fit but Kotobukiya's lineage as a garage kit manufacturer has a noticeable affect on their approach to sculpt and detailing. In short, the assembly is more intricate and whilst glue isn't entirely necessary it does help for certain detailing parts. Coupled with the fact that Yuzo Kojima's original designs were immensely detailed, assembling the Noblesse Oblige requires a modicum of care and attention.
That said, the assembled kit of Noblesse Oblige is very sturdy and has a good weight to it. All the joints are suitably taut as well, which makes posing your finished model much easier. The kit also comes with two rifles, one each for the Armored Core 4 and For Answer variants. I went with the For Answer version, as the rifle looks a lot nicer. Below are a few shots of the kit painted.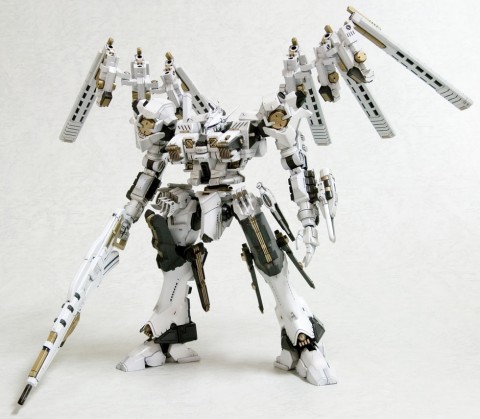 Overall, the sculpt and general beefy nature of the design make this kit quite imposing and impressive. Kotobukiya have done a lovely job of recreating a very complex design in kit form and that in itself is quite laudable. Much like the other Variable Infinity kits, you can also disassemble the kit into its component parts and make your own design, much like in the games (though stick to the "NX" range, as the "AC" kits are from a different era of games and the subsequent linkage of parts would look a tad bizarre). In short if you enjoyed playing either Armored Core 4 and For Answer, then this kit will complement that interest quite nicely. Not to mention give you a far greater appreciation as to the intricacy of the design itself in the games.
To finish off, here is an HD gameplay video of the design being used in Armored Core For Answer.
It's worth clarifying that this design is not to be confused with the base frame CR HOGIRE, which has also been recently released.