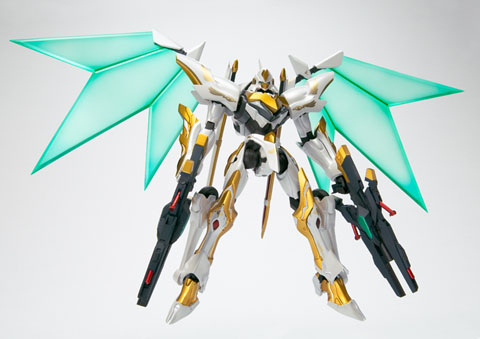 Bandai have announced a new range of toys helmed by Hajime Katoki, hence the "Ver. Ka" suffix (as that stands for "Version Katoki"). The first in the line is the Lancelot Albion from the second season of Code Geass. Admittedly, there was a Robot Damashii variant of this design already but it seems that this version will be bigger and far more detailed.
As far as games are concerned, both the original Lancelot and the Albion upgrade were only really featured in the somewhat lacklustre Code Geass adventure games that were released on the PSP, PS2 and DS. The mecha haven't been given an action game as yet nor featured in something like Super Robot Wars.
The mecha design in Code Geass was actually penned by the gaming luminary Yasuda Akira, or "Akiman" as he is more affectionately known. So having his work re-touched by another gaming mecha designer, in the form of Katoki, might be a little strange for him maybe (though Katoki is admittedly respected by other artists, despite his somewhat frosty demeanour). The next Ver. Ka toy in this new line will be the indomitable Gurren Lagann, which is briefly previewed at the bottom of the page linked above.
In any case, this new Albion toy will be available in June for 5040 yen and you can pre-order it here.