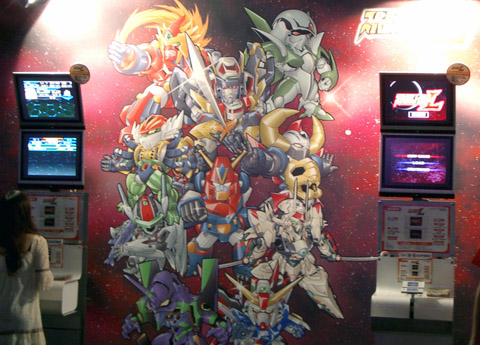 There were only four DS's at the show that graced the upcoming Super Robot Wars L and the demo only had the first level in the game, as far as we can make out. The booth also had the latest OG anime trailer blaring away above it, which also added to the atmosphere a fair bit. Hit the jump for our impressions.
The demo had the player start out with some of the OG mecha for the game pitted against numerous opponents in a city based level. Due to the lack of character upgrades, you naturally started out with minimal seishin. Your other OG allies also could replenish your health, as per the other games, which is handy when the latter half of the mission kicks-in. Specifically, a few turns in Linebarrel appears as a new enemy shortly followed by Dancouga Nova as an ally. Linebarrel also attacked other enemies too thankfully, something that was useful against the stronger units as Linebarrel effectively acted as interference in a tactical sense. Dancouga Nova also felt quite potent and seems to have replaced the original Dancouga's uber role in SRWJ somewhat, at least in the mission we played. Once all the enemies had been defeated, including Linebarrel, the demo ended.
If you've played any of the GBA and DS SRW games, then SRWL won't give you any surprises. The demo was a very easy level but it did give a good sense of what the game will offer. It is still using the same map graphics from the GBA games though, as well as many stock animations (such as the generic explosions/smoke and most of the boosting effects to name a few). This obviously dates the game's visuals a bit. Naturally, the new series and OG cut-ins are all fresh and nicely done, with more of an anime flair as the character portraits animate quite nicely now. All said and done though, the game is looking decent but we do feel – compared to the other DS games at the show – Banpresto could have at least tried a bit harder.
Overall then, SRWL is definitely a promising turn based strategy game on the DS – like W and K before it. Whilst it could look a bit better, there's clearly a decent time to be had here. With any luck it will be a bit longer than K was (even with its multiple routes).