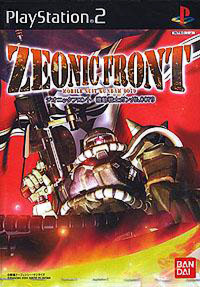 Gundam is a weird franchise when it comes to gaming. Weird in the way that the majority of official tie-in titles often fumble the ball, whereas the "gaiden" (or sidestory) titles are often superb.
The Saturn was the first console to hold host to one of the more renowned Gundam gaiden games; the Blue Destiny trilogy. Not playing as the main characters from the anime, you had to survive as grunts on the frontline in seriously underpowered hardware. As a consequence, the overall gaming experience was more gritty and intense. It was also one of the first Gundam games to implement a first person cockpit view properly (the PSone Gundam game doesn't count, because that was rubbish).
The same development team behind the Blue Destiny trilogy then went onto create Rise From The Ashes on the Dreamcast. Again, it was similarly gritty and involved you on the frontline with your mechanical balls against the wall. The interesting addition in the Dreamcast version was the ability to control wingmen and give them very specific orders (all this could be done on the fly too). Then things went dead. With the advent of the PS2, Bandai financed a bunch of underpar "canon" Gundam games, which completely lacked the edgy realism and tactical vivacity of their "gaiden" brethren. That was, of course, until Bandai announced Zeonic Front.