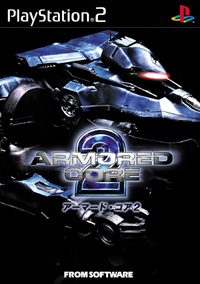 Cast your mind back to the halcyon days of the PlayStation 2's release. There are no "killer app" launch titles, and Sony executives are in the process of having a hissy fit. The PS2 desperately needed something that the PR leeches could market, unluckily for From Software they got their timing wrong.
Historically, the Armored Core franchise has received a very small, yet dedicated, following in the West. This is mostly a byproduct with the way Westerners view big robots. In that, unlike Japan, we haven't had almost thirty years of big robot pop-culture rammed down our gullets. It goes over heads. Naturally, in Japan anything linked to big robots is equated with the Second Coming. Armored Core is primarily aimed at the Japanese market, simply because they actually want to control 20 metre tall anthropomorphic bipedal robots. Abroad? It is a very different story altogether.
So from the off, Sony's PR machine picked the wrong game. To make matters worse, the final game sucked. Whether it is was all the pressure from Sony that rushed the development cycle, or the PS2's crazy architecture, or even just plain bad luck. The final product was particularly sub-par.