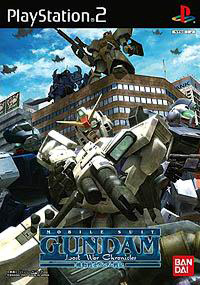 Franchises can be double-edged swords when it comes to gaming. The Bond franchise, for instance, has produced one superb game and a plethora of utterly shocking ones. The Gundam franchise is also very similar in this respect too. There have been vast numbers of Gundam games released over the years, of which most have been total gaming travesties. Thankfully "Lost War Chronicles" is a refreshingly solid gaming experience.
"Lost War Chronicles" is a pseudo side-story to the original Gundam's "One Year War". Using a very similar, but a nonetheless graphically improved and speedier game engine to that of "Journey to Jaburo", many will feel that this is merely a soulless cash in rather than anything of worthy repute.
It is probably one of the most solid Gundam and, consequently, mecha games of recent years. Whilst not as inclusive as Capcom's popular arcade incarnation, there is considerably more depth available to the player in Bandai's recent outing.