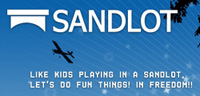 Here's a low-down of a rather wonderful Japanese games developer by the name of Sandlot. Officially formed in March of 2001, they approached the genre of mecha gaming with quite literally a new perspective.
In 1953 a budding manga artist, by the name of Mitsuteru Yokoyama, penned a series that would be responsible for laying the foundations of a pop-cultural phenomenon that has now lasted over half a century. The series involved a young boy remote controlling a giant robot by the name of Tetsujin 28-go (translated as Iron Man 28 and released abroad as Gigantor). This focus of the boy controlling a huge mecha from ground level was clearly an inspirational one in the case of Sandlot's genesis.
For almost all but one of Sandlot's games they have a very similar gameplay implementation in regards to the player viewpoint, that of a boy on the ground looking up at an immense mechanical behemoth (or at the very least a discernable sense of scale to the gaming proceedings).
It's also interesting to note that this mechanical inspiration has consequently spawned a more successful series of games.
More after the jump…