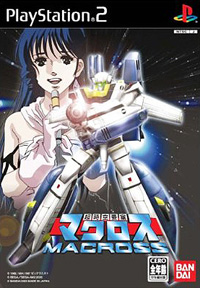 There are particular anime heirlooms that require a certain type of respect and admiration, especially when licensed merchandising invariably raises its head. Choujikyuu Yosai Macross is such an heirloom. Originally aired in 1982 as a 36 episode TV series, then as an adapted movie in 1984, Studio Nue's epic-yet-human space opera is greatly revered.
It also marked the creative debut of one Shouji Kawamori: a then meek mecha designer, he penned the timeless design of the VF-1 "Valkyrie". Timeless in the way it looked like a contemporary F-14 fighter jet but also seamlessly transformed into a giant mecha to combat equally giant aliens out to destroy the human race. Unsurprisingly, there have been many Macross videogames over the 20-year period since Macross was created. Many have been utterly dire. A select few haven't.
Normally, the mere mention of SEGA-AM2 indicates a project of austere quality, after all AM2 truly have an enviable gaming portfolio. Bandai realised this state of affairs after releasing the (pretty poor) Macross Digital Mission VF-X games developed by UNiT, not to mention the shocking Macross Plus Game Edition and Macross M3 created by Shoeisha, and they thankfully commissioned AM2 to make matters right.